Vern River
Tofte Ranger District
The Vern River is not a maintained BWCA route between Weird Lake and Vern Lake. The river is a series of ponds and flat water stretches, connected by about a dozen short narrow sections (which contain fast water that require bushwhacking to get around). There are also several beaver dams and downed trees to get past along this section of the river too. This challenging stretch of the Vern River is about two miles in length. The other two miles of the four mile long river are easily travelled. It is a difficult journey to travel the entire river between Vern Lake and Weird Lake.
At the mouth of the Vern River, where it flows into Weird Lake, the first 1/3rd mile is easily navigable heading upstream. From Vern Lake, you can paddle downriver about 1 1/2 miles with few obstructions on flat water. If you are looking for a quiet trip along a seldom traveled stretch of river, this is a nice place to paddle. Return back to Vern Lake, paddling upstream. There is almost no current in this section, but there are a few beaver dams...
The river almost certainly contains some northern pike and walleyes, especially for the section of river stretching for about 1 1/2 miles downstream of Vern Lake.
For a couple of miles or so downstream of Vern Lake, fire scars are visible along the river, remaining evidence of the blaze that took place in this area in the late 1990's.
References:
Beymer, Robert, Boundary Waters Canoe Area – Volume 2 – Eastern Region (Berkeley: Wilderness Press, 2006), 75, 77.
Pauly, Daniel, Exploring the Boundary Waters (Minneapolis: University of Minnesota Press, 2005), 261.
Traveling the Vern River Upstream from Weird Lake to Homer Lake/East Pipe Lake
Click on the photos below to see the full resolution image - Use your browsers back button to close photo and return to this page.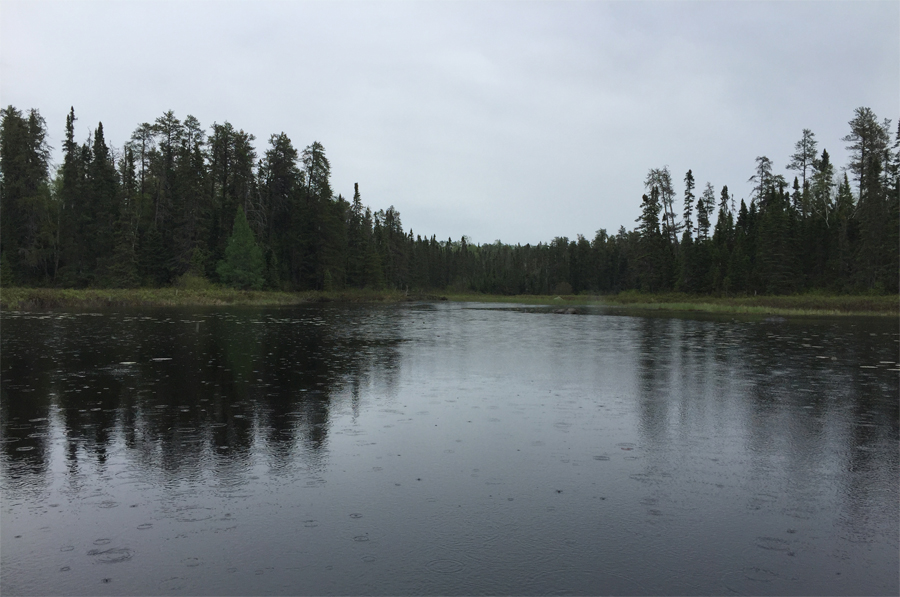 A view of the lower reaches of the Vern River. This is just upstream from where the river flows into Weird Lake. The river can be paddled without interruption for about a quarter-mile or so from Weird Lake before running into obstructions (aka rapids).

From it's mouth at Weird Lake, you take a quick paddle into the lowest reaches of the Vern River to take a look around.
FOR APPROXIMATELY THE NEXT TWO MILES HEADING UPSTREAM, THE VERN RIVER IS NOT GENERALLY NAVIGABLE. THROUGH THIS TWO MILE STRETCH ARE SPACED ABOUT A DOZEN SMALL RAPIDS, A FEW BEAVER DAMS AND PERHAPS SOME DOWNED TREES THAT LIE ACROSS THE WIDTH OF THE RIVER. TO GET THROUGH THIS SECTION REQUIRES BUSHWHACKING. IF YOU DECIDE TO TRAVEL THROUGH THIS AREA, MAKE SURE YOU ARE KNOWLEDGEABLE AND WELL PREPARED.
THE VERN RIVER JUST BEFORE REACHING VERN LAKE

Paddling around the small island that can be found where the Vern River flows out of Vern Lake.
PADDLING ACROSS VERN LAKE, WHICH THE VERN RIVER FLOWS THROUGH

The Vern River flows through Vern Lake, entering in the southeast and flowing out of the lake just across from the Whack Lake portage.
PADDLING UPSTREAM FROM VERN LAKE TO THE FIRST PORTAGE

There is a short section where you will likely have to get out of your boat and "push", depending on water levels.
PORTAGE OF 8-RODS UPSTREAM TO THE VERN RIVER

Easy portage around a set of rapids. The landing on the upstream end of this portage isn't so swell.
AS THE VERN RIVER NEARS ITS HEADWATERS, IT SPLITS IN TWO. THIS IS BECAUSE THE RIVER BEGINS IN TWO DIFFERENT LAKES 1) HOMER LAKE OR 2) EAST PIPE LAKE
1) HEADING TO HOMER LAKE:
PADDLING UPSTREAM FROM THE 8-ROD PORTAGE TO THE 4-ROD PORTAGE (NEAR HOMER LAKE)
THIS VIDEO COMING SOON...
PORTAGE OF 4-RODS UPSTREAM TO THE VERN RIVER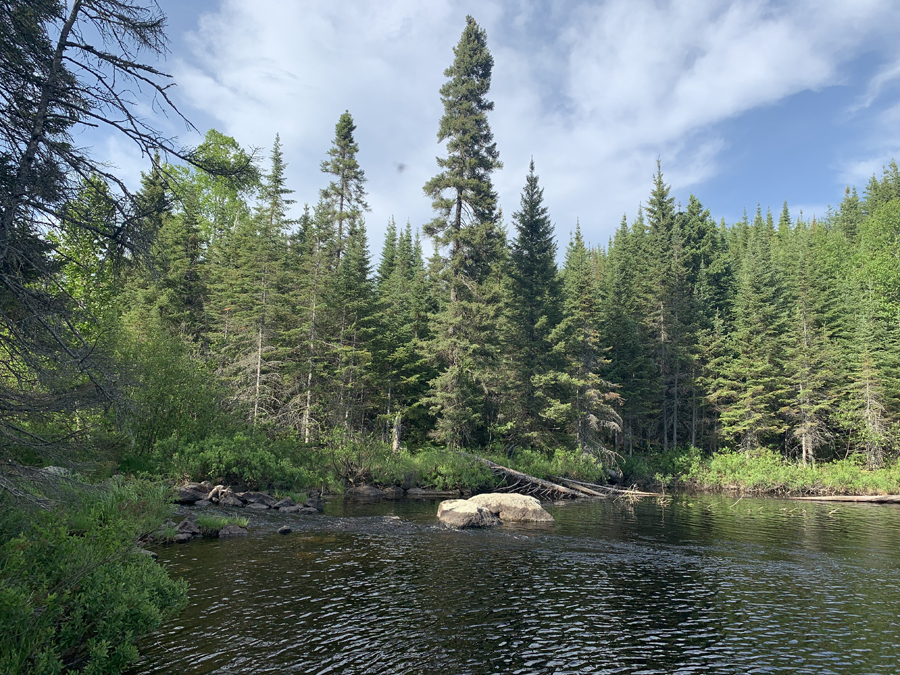 The tail end of the short stretch of mild rapids that this portage is used to bypass.

This portage is so short, it is guaranteed to be easy.
PADDLING UPSTREAM FROM THE 4-ROD PORTAGE TO HOMER LAKE

A scenic section of the Vern River just before reaching Homer Lake.
2) HEADING TO EAST PIPE LAKE:
PADDLING UPSTREAM FROM THE 8-ROD PORTAGE TO THE 20-ROD PORTAGE TO EAST PIPE LAKE

The river widens up and forms a small lake. The Vern River feeds this wide section from two different directions. If you head to the right as you paddle upstream, you will come to the East Pipe Lake portage. If you were to go left, you are traveling in the direction of Homer Lake. Here will will go right, East Pipe Lake.
PORTAGE OF 20-RODS UPSTREAM TO EAST PIPE LAKE

Portage gets waterlogged on the East Pipe Lake end because of beaver activity. This is a very pretty area, so take a break from portaging here and click a few photos.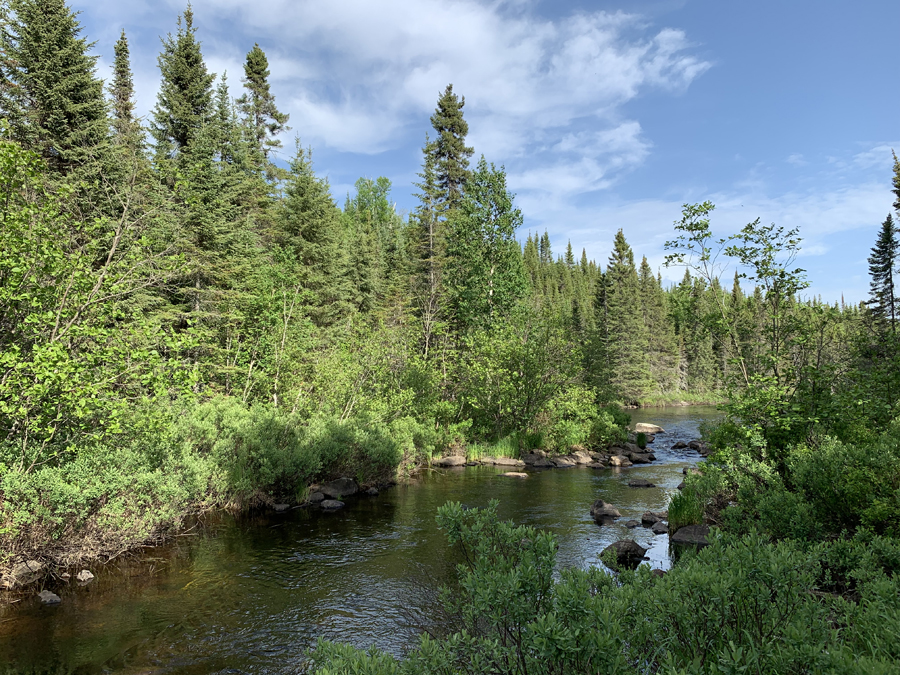 A look at the rapids along the Vern River, as seen from the portage leading to East Pipe Lake.
Route Connections for Vern River
You can paddle into the Vern River from either Weird Lake, Vern Lake, Homer Lake or East Pipe Lake. The river is passable (with a beaver dam or two) for about 1.5 miles downstream from Vern Lake. Traveling the remaining two miles until reaching Weird Lake requires bushwhacking about a dozen times over short portages that bypass small stretches of rapids. Several more beaver dams will likely also be encountered in addition to the mentioned rapids. This is not an official BWCA route, so it is not recommended.