BWCA Permit Information
PERMITS ARE AVAILABLE BEGINNING AT 9 AM CST ON JANUARY 26, 2022

If you are planning to be in the Boundary Waters Canoe Area (BWCA) for any overnight trip, whether paddling, hiking or using a motorized craft, you are required to obtain and carry a quota permit during the period from May 1 through September 30. This permit is for a specific BWCA Entry Point and you must enter at that location only on the day shown on your permit. You can pick up a permit the day before your trip start date, but you still must enter on the specific date shown on your permit. You obtain this permit through the BWCA Reservation System. You can also obtain an overnight permit at a Forest Service ranger station and at most outfitters. It is recommended that you make advanced reservations. This is due to limited availability of permits for many entry points, especially during busy periods (i.e. Fourth of July). When the daily quota is reached for a specific entry point, no more permits will be issued for that date. So book early.
BWCA Day Permits
If you just want to enter the BWCA during the day (i.e., day trip), you simply need to fill out a free self-issued permit which are available at each entry point or at Forest Service ranger stations. There is no quota system for day use permits.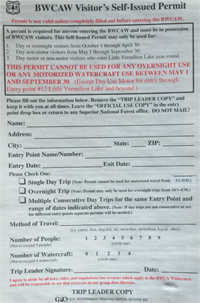 Off Season Permit Requirements
You do not need an overnight permit when entering the BWCA between October 1 and April 30. You do need to complete the same self-issued day permit form which is found at the entry point during this period. As usual, you must carry a copy of this self-issued permit with you.
Once you have reserved an overnight permit, you must pick it up on the Forest Service ranger station on the date specified in your reservation. The designated trip leader or alternate (if designated) must pick up the permit. You will be required to listen to a ranger discuss rules and regulations that must be followed during your time in the BWCA. You will also have to watch a video about BWCA leave no trace and other best practices. The video is about 20 minutes so leave a bit of extra time for picking up your permit. Day trip visitors to the BWCA or those taking a BWCA trip from October 1 to April 30 forego the visit to the Forest Service ranger station to get their permit.
No matter what kind of permit you have, you can never travel in groups of more than nine (9) people. Even if you have two permits, the largest group allowed in the BWCA is nine (9). Also, there can never be more than four (4) watercraft within close proximity to each other, in the BWCA. This includes portages.
A permit allows you to travel anywhere you want in the BWCA. The permit allows you to stay at any particular campsite for up to 14 days straight. A permit does not guarantee you a campsite though. If you want a particular campsite, try to get to it early in the day. Campsites are first come, first serve.
Additional rules concerning permits:
You must enter the BWCA at the designated entry point on the specific date displayed on your permit.
You cannot exit the BWCA and then return on the same permit. You need a new one and must pay the fees again.
For day permits, you must still enter at a designated BWCA entry point and you must carry a copy of the day permit with you. You place the other official copy of the day permit in the box at the entry point. You can only be in the BWCA on the date shown on your day permit.
Quetico Provincial Park Permit Information
Before you decide to get a Quetico Provincial Park overnight camping permit, you first must be certain that you can enter Canada from the United States. There are two ways to go about this. If you are simply driving into Canada, you can clear customs at the usual highway border crossing check points. However, if you want to enter Canada by canoe or on foot (i.e. Prairie Portage, Cache Bay or Lac La Croix), you must have in your possession a Remote Area Border Crossing (RABC) permit. A family needs a single RABC. But a group of several adults will each need their own permit. These RABC permits cost about $30 (price subject to change) and can take up to six weeks to get. You can get the application for the RABC permit here (LINK). Also, keep in mind that U.S. Citizens must have a passport to visit Canada (effective in 2009).
Quetico reservations are harder to get than BWCA reservations since Quetico has a much more restrictive quota system. Therefore, you will want to contact the Quetico Provincial Park reservation system by phone at 888-668-7275. They are open for long hours and almost every day (except two holidays). At the time of this writing, Quetico reservations cannot be made over the Internet. This will probably change at some point in the future. When you call, you will be asked to choose your entry point, entry date and the name of your group leader. The fees for a Quetico permit are a bit heftier than the BWCA permit are. I don't mention the exact fees here because they change over time. The reservation should be made with a credit card to avoid currency exchange rate fees though. Also, much of the fee will be charged at the time of your reservation. Adjustments to the fees can be made when you pick up your permit at the Quetico ranger station out in the bush (so make sure you bring your credit card with you). Also, you can purchase your fishing license at the Quetico ranger station. (NO LIVE BAIT ALLOWED IN CANADA SO LEAVE THE LEECHES AND FROZEN MINNOWS IN THE U.S. HOOKS MUST BE BARBLESS, SO BRING A BARB PINCHER.)
If you are headed to the Quetico through the BWCA (say through Prairie Portage), you must also have the proper BWCA permits. There are two choices here:
1) If you are just passing through the BWCA and don't plan to camp, you need two BWCA day permits (one for the paddle up to Prairie Portage on the way in and one for your paddle out of the BWCA after leaving Quetico).
2) If you plan to camp in the BWCA before going into Quetico (again say through Prairie Portage), you need an overnight BWCA permit. You can use the same permit after you leave Quetico to complete your trip out through the BWCA. This is an exception to the usual rule where you normally need a BWCA permit every time you enter the BWCA.
Quetico Day Permits
You need a day permit in Quetico if you are canoeing or traveling through the park by dog sled. You don't need a day use permit if you are just hiking into Quetico. You can pick up a day use permit at any Quetico ranger station. Unlike the BWCA, Quetico day permits are not free. You got to pay. If you visit Quetico during the off season when the ranger stations are closed, you must get a self-issued day use permit at a ranger station. You must pay for these too. Just like the BWCA, you must carry your Quetico day use permit with you during your visit.
BWCA Primitive Management Area (PMA) Permit Requirements


Sedative Lake narrows in the BWCA Spider Lake Primitive Management Area. (You need a PMA permit to camp on this lake. Check out the information below to see how these rules work.)
See this PMA Permit page for a full discussion of these secondary permits to visit the Primitive Management Areas in the BWCA. PMA's are areas with no maintained portages or campsites and very restricted overnight quotas.