Entry Point 60 - Duncan Lake
Gunflint Ranger District
From Grand Marais, Minnesota, follow the Gunflint Trail for about 29 miles to Hungry Jack Road (just before Trail Center). Take a right and drive 2.4 miles to the parking lot on your left. The parking lot is shared by both the Duncan Lake and Daniels Lake entry points.
Note that there is a portage here that runs through the parking lot and across Hungry Jack Road between Hungry Jack Lake and West Bearskin Lake.
The portage to Duncan Lake is a roughly 2/3rd's mile paddle to the northwest across West Bearskin Lake. The portage to Duncan Lake is roughly 80 rods in length. The portage itself is relatively easy.
The only continuous route from Duncan Lake is via the Stairway Portage to Rose Lake. There is another long and fairly tough portage that leads to Partridge Lake, but that lake is a dead end.
Exploring the Entry Point

Exploring the parking lot, checking out the latrine and then walking down the short portage path to the shore of West Bearskin Lake.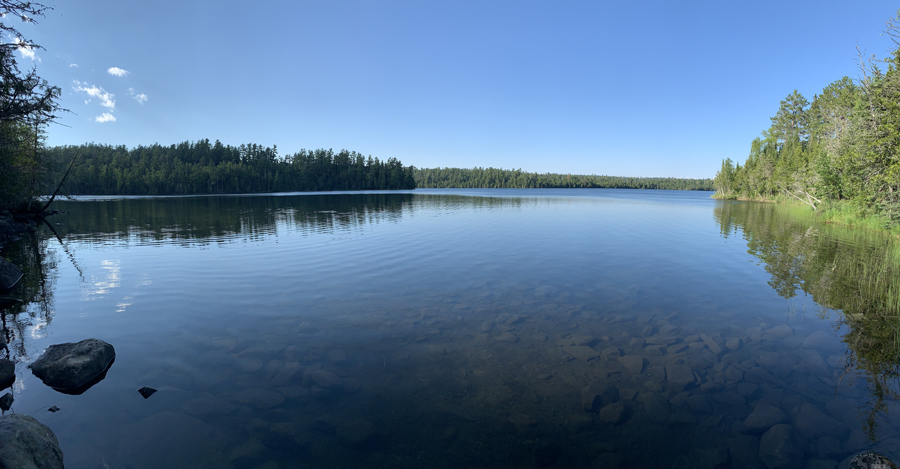 From here, paddle directly for that point in the center of your view. Round the point to the left (west). The Duncan Lake portage is about 1/2 mile paddle from there.
Now that you've reached the shore of the lake, visit: WEST BEARSKIN LAKE
Return to List of BWCA Entry Points (sorted by Entry Point Name or by Entry Point #)