Bat Lake
Gunflint Ranger District
The north shore of Bat Lake between theGreen Lake and Gillis Lake portages was almost completely burned by the Cavity Lake Fire. The south shore of the lake is still intact. Two of the lakes three campsites are on the south shore. The campsite on the north shore is still open. Note that Bat Lake is the first lake along the route from Brant Lake to have campsites. Most paddlers in this area are focused on camping on Gillis Lake, so something on Bat Lake is usually available. A big rock platform marks the Gillis Lake portage landing.
Bat Lake has plenty of small lakers; good eating size. This lake is often passed by as many would rather spend time fishing on Gillis Lake. Bat Lake was stocked with lakers in 1989 and 1991. The lake is certainly deep enough to support lake trout. At 110 feet in depth, it is one of the deepest lakes in the BWCA.
The burned north shore of Bat Lake exposes some fairly impressive cliffs.
Water from Bat Lake drains out through a wetland into an unnamed lake about 40 rods to the west. The water from this small lake then drains south into Gillis Lake. Gillis Lake's water level is 53 feet below that of Bat Lake.
Exploring Bat Lake
Routes to locations on Bat Lake are shown below:
Paddling from the Green Lake portage to the Gillis Lake portage

Click on the photos below to see the full resolution image - Use your browsers back button to close photo and return to this page.
PADDLING FROM THE GREEN LAKE PORTAGE TO THE GILLIS LAKE PORTAGE


A view to the west from the Green Lake portage. This is late afternoon in mid-October.

Staying relatively close to the south shore of the lake, you paddle across Bat Lake in the BWCA on a late fall day (Video has some sound issues).


Here you are looking from the Gillis Lake portage landing.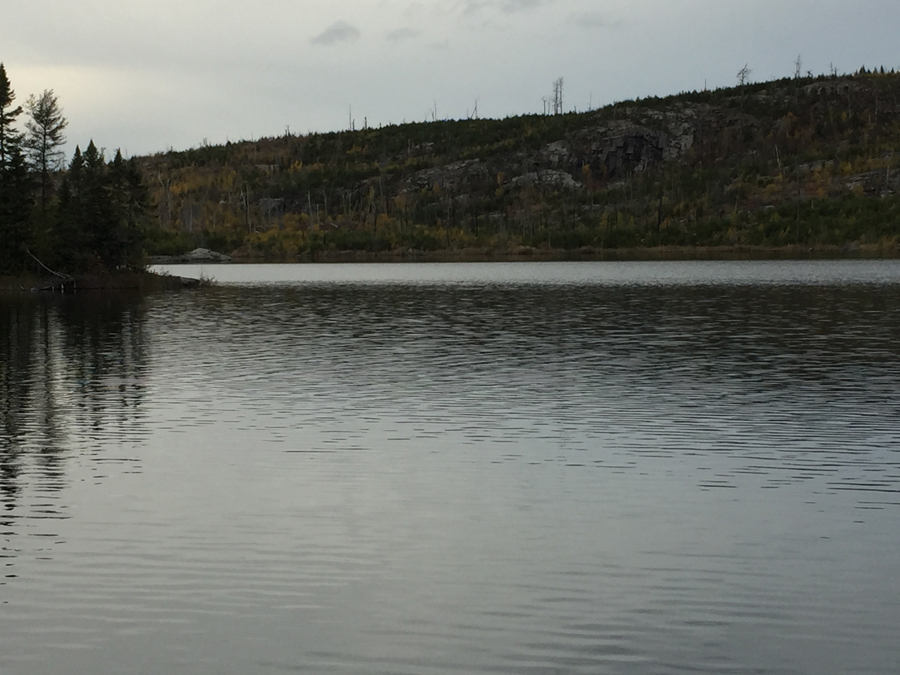 A steep ridge of rock is more easily visible because of the 2006 Cavity Lake Fire.
Route Connections for Bat Lake
From Bat Lake, you can portage to Gillis Lake or Green Lake.