Disappointment Mountain
Click on the photos below to see the full resolution image - Use your browsers back button to close photo and return to this page.
Disappointment Mountain is the highest point west of Kekekabic Lake in the Boundary Waters Canoe Area. The mountain is easily visible from several lakes in the area, including Disappointment Lake, Ahsub Lake, Jordan Lake and Ima Lake. It rises over 300 feet above the surface of these lakes. The mountain has two peaks over 1,820 feet in altitude, with the northern of the two summits being slightly higher. This northern peak is marked with a geological survey marker with the surveyor name of "Ensign". Ensign Lake was named for this surveyor. The entire mass of the mountain stretches for about 2 miles east-west and 1 mile in the north-south direction.
A couple hiking trails run near or over the mountain. The Old Pines Trail goes over the southern flanks of Disappointment Mountain, running in an east-west direction. The Snowbank Lake Trail is on the west, sandwiched between the mountain and Snowbank Lake. The Old Pines Trail and the Snowbank Lake Trail intersect in this area. The Old Pines Trails is often difficult to follow and is not cleared regularly. The Snowbank Lake Trail is easier, but it can be difficult to trace in places too and often has plenty of blowdown. Finally, the Kekekabic Trail runs from east to west, about a 1/2 mile south of Disappointment Mountain. Some views of Disappointment Mountain are visible from the "Kek".
Uncertain where the name Disappointment Mountain comes from.
Here is a list of the highest points in Minnesota (this list is on the Bower Trout Lake page which is a BWCA lake accessible from the Gunflint Trail).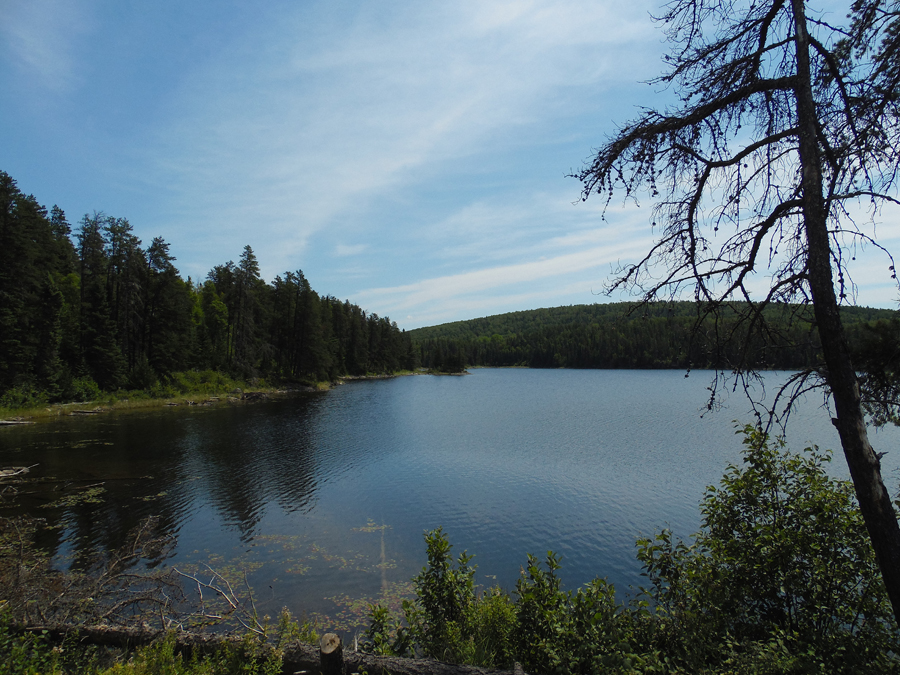 The curved shape of Disappointment Mountain (on right side) as seen from the campsite behind the island on Ahsub Lake.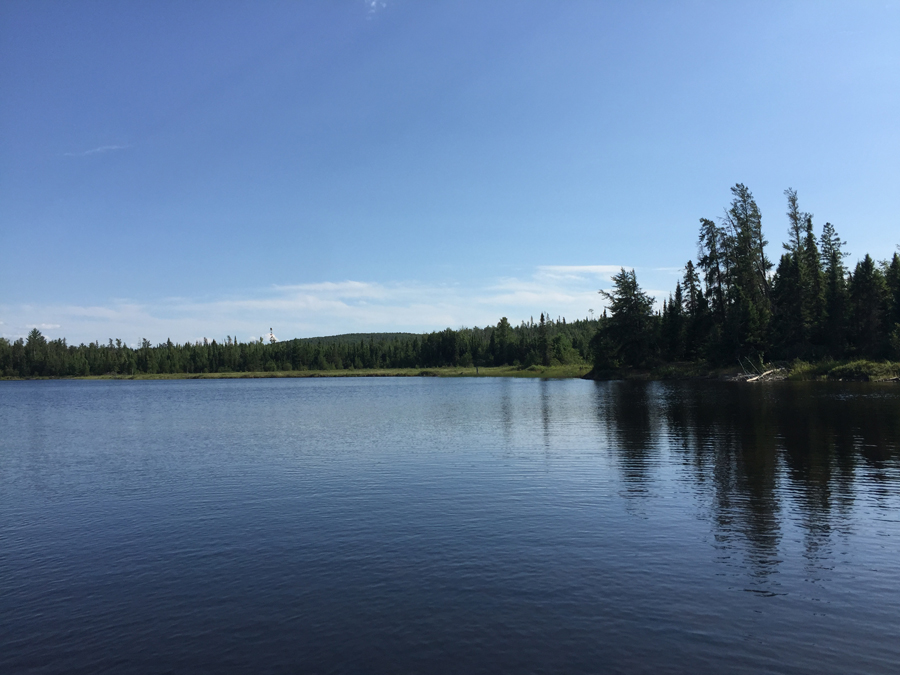 Disappointment Mountain (just left of center) is visible from the start of the portage to Gibson Lake, on the north end of Cattyman Lake.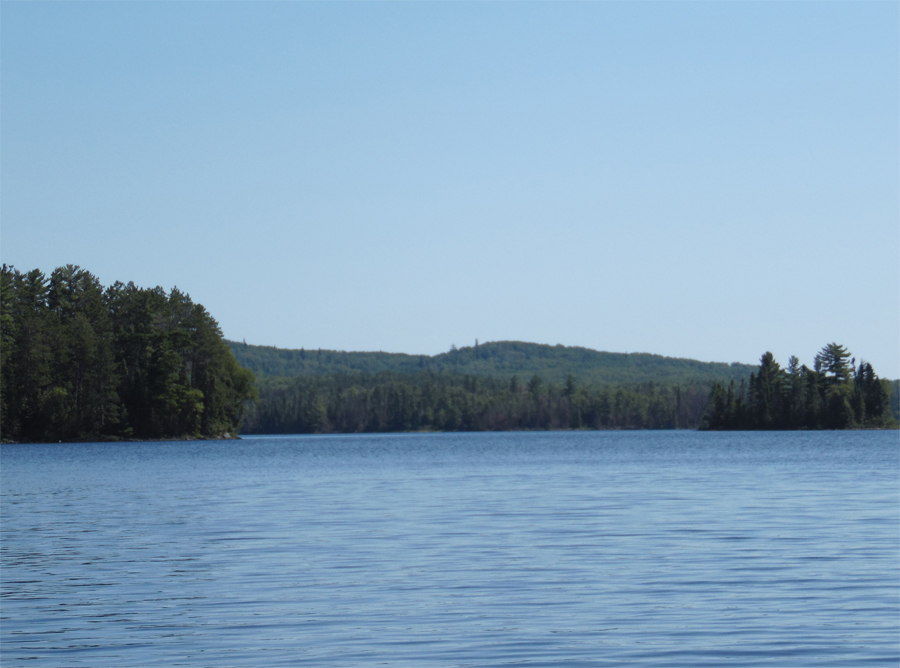 Looking to the east at Disappointment Mountain from Disappointment Lake, from near the lakes northern island.

View toward the south from near the Jordan Lake narrows. Disappointment Mountain is just visible to the left, behind the treeline.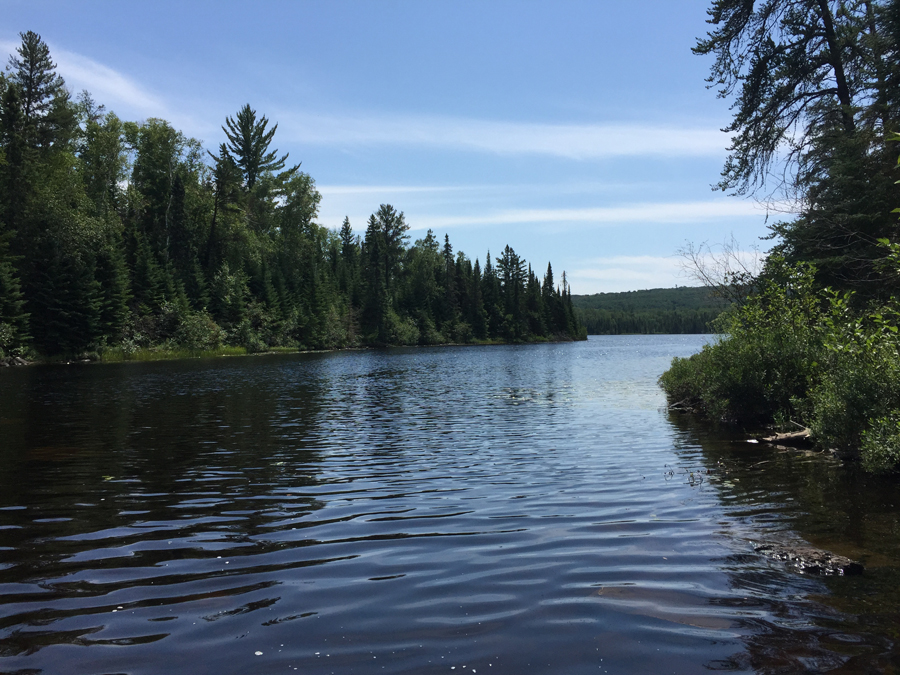 Looking south across Adventure Lake from the Cattyman Lake portage landing.
Return to paddling on: DISAPPOINTMENT LAKE