Whack Lake
Tofte Ranger District
Most groups avoid Whack Lake as the portages are easier between Homer Lake and Vern Lake along the Vern River. Also, that route may get the nod for being a bit more scenic. The portages into Whack Lake are short, but a little more challenging.
Whack Lake is a scenic lake with a mature forest and some interesting cliffs dotting the lake shore. The lake avoided the fires that affected Vern Lake and Juno Lake in the late 1990's.
Whack Lake drains via a small creek into Homer Lake. This creek is right next to the portage between these lakes. The some of the eastern and most of the northern shoreline of the lake have some boggy area.
References:
Pauly, Daniel, Exploring the Boundary Waters (Minneapolis:  University of Minnesota Press, 2005), 266.
Exploring Whack Lake
Paddling from the Homer Lake portage to the Vern Lake portage

Click on the photos below to see the full resolution image - Use your browsers back button to close photo and return to this page.

PADDLING FROM THE HOMER LAKE PORTAGE TO THE VERN LAKE PORTAGE


Paddle to the west out of the small bay coming from the Homer Lake portage. Once in the main body of Whack Lake, the portage to Vern Lake can be found to the left along the west shoreline. You can see most of the lake stretching to the north as you make the crossing.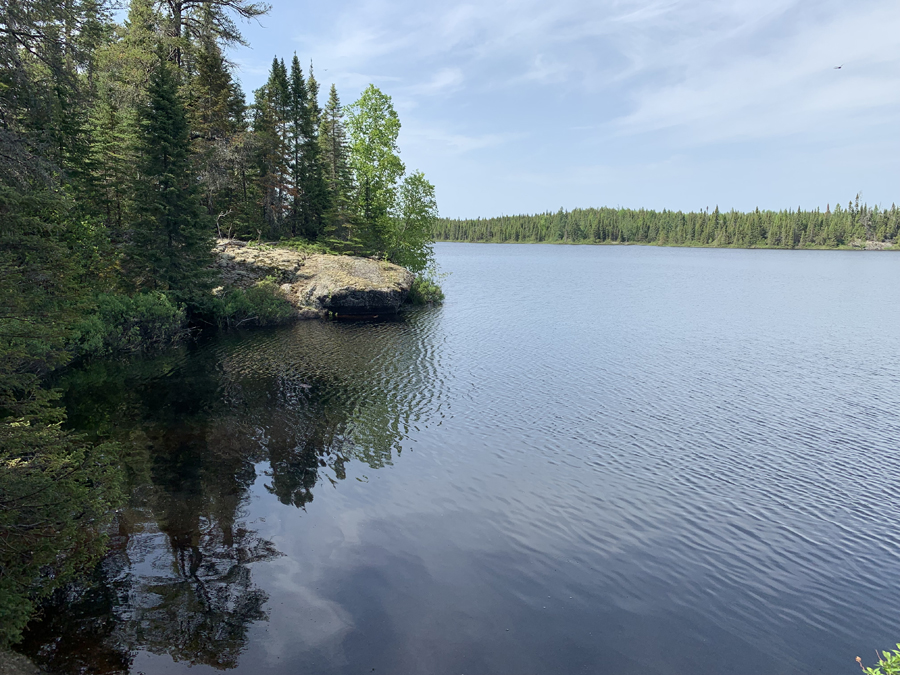 Gazing to the north across Whack Lake. This is from the portage landing for Vern Lake.
Route Connections for Whack Lake
From Whack Lake, you can portage to either Homer Lake or Vern Lake.