Hog Creek
Tofte Ranger District
The "Hogger" is a twisty, slow moving creek with few obstacles. There will often be a beaver dam or two to liftover along the route between the entry point and Perent Lake. There is one easy portage along this stretch too that is about 3 rods in length. Water levels are rarely an issue along Hog Creek, but it is possible during an exceptionally dry year to have water levels low enough that you may have to push sometimes rather than paddle. Bugs can be an issue along the creek, as the route passes through low lying swamps and bogs.
The only route from the Hog Creek entry point is to the west through Perent Lake and then up the Perent River to Isabella Lake. Most folks stay at Perent Lake, a good fishing lake and with plenty of shoreline to explore. Hog Creek makes a good entry point if you just have a weekend to spare.
Hog Creek starts well upstream of BWCA Entry Point 34. The headwaters are at Hog Lake which is outside of the BWCA. The upper reaches of this stream not really passable and have more elevation drop than the section of the creek within the Boundary Waters. Driving the road out to the entry point, you will pass over Hog Creek a number of times as it winds its way through the bogs and forests of the area. From the entry point down to Perent Lake, the creek is easy to paddle. This is a nice route for beginners actually, since there are few portages, the creek requires some maneuvering, and Perent Lake is a good camping lake with lots of sites. The fishing on Perent Lake can be pretty good for northern pike and walleye. This route is often underutilized, so getting a permit for Hog Creek on short notice is sometimes possible.
Allow extra time to paddle the creek. It is longer than it looks (about 4.5 miles) from the entry point to Perent Lake because of all the twists and turns in the stream.
References:
Beymer, Robert, Boundary Waters Canoe Area – Volume 2 – Eastern Region (Berkeley: Wilderness Press, 2006), 40, 42, 45.
Pauly, Daniel, Exploring the Boundary Waters (Minneapolis:  University of Minnesota Press, 2005), 220, 230.
Traveling Hog Creek
Routes to locations on Hog Creek are shown below:
View of Hog Creek from BWCA Entry Point 34

Click on the photos below to see the full resolution image - Use your browsers back button to close photo and return to this page.
VIEW OF HOG CREEK FROM BWCA ENTRY POINT 34


Hog Creek flows from right to left as it slowly rolls by the entry point portage landing (July 10, 2016).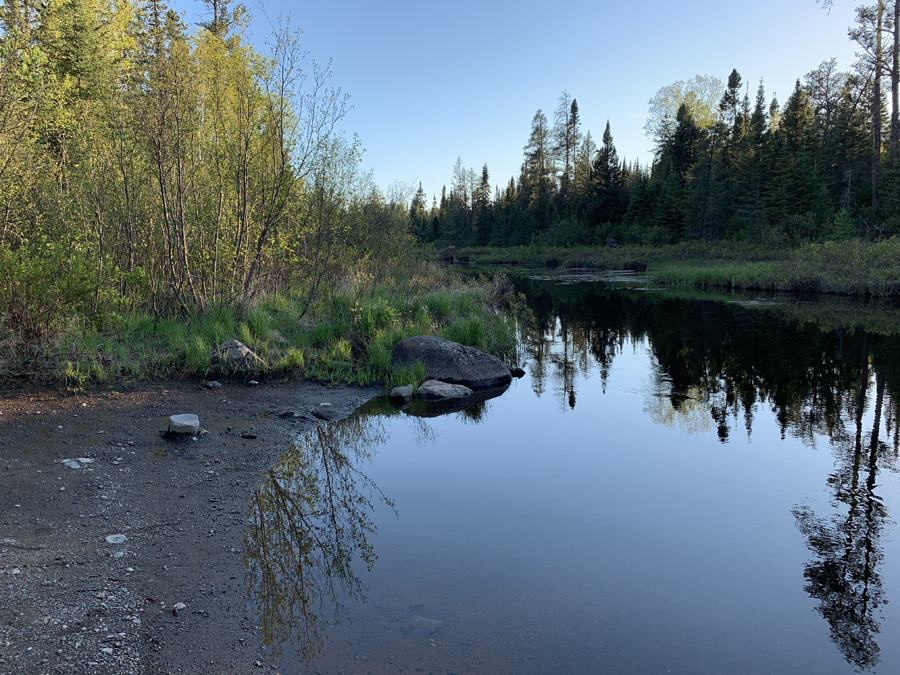 A look downstream at Hog Creek. This is the direction you want to go to Perent Lake (May 31, 2021).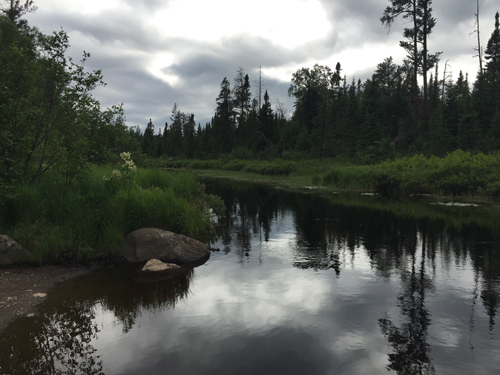 Similar view as above, but several years earlier and a different season (July 10, 2016).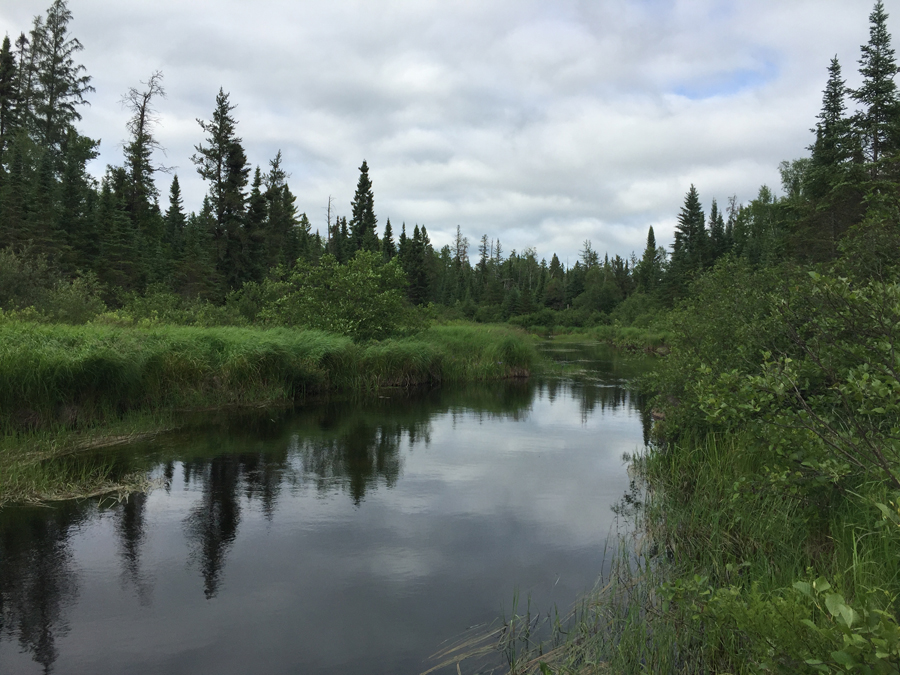 Upstream view of Hog Creek from the portage landing for the entry point. Just to right of center you can barely make out a road sign. This is the road that provides access to the Kawishiwi Lake and Hog Creek entry points (July 10, 2016).

Watching lazy, slow moving Hog Creek flow by in the early evening (July 10, 2016).
Route Connections for Hog Creek
From Hog Creek you can paddle into Perent Lake or your can exit the wilderness by portaging to BWCA Entry Point 36.