Entry Point 76 - Big Moose Trail
LaCroix Ranger District
From Ely, drive to the Echo Trail and follow it west to the intersection with Forest Road 464. This intersection is about 32 miles from Ely, Minnesota. Turn left and continue on Forest Road 464 for about 2 miles until you reach the Big Moose Trail sign. Turn left on the access road and follow it for 0.5 miles to the parking lot. The access road has some sizeable potholes, but is easily passable in a small passenger car.
The parking lot has enough room for a small army. The trail starts near the bulletin board.
The Big Moose Trail is mostly flat, but has a few hills to get your heart pumping. The trail is usually in good shape with little blow down and few muddy spots. There is a campsite that is accessible from the Big Moose Lake end of the trail if you want to turn this into an overnight trip. It's a pretty nice site. You get to that campsite by following a path along the shore of the lake.
Exploring the Entry Point
Click on the photos below to see the full resolution image - Use your browsers back button to close photo and return to this page.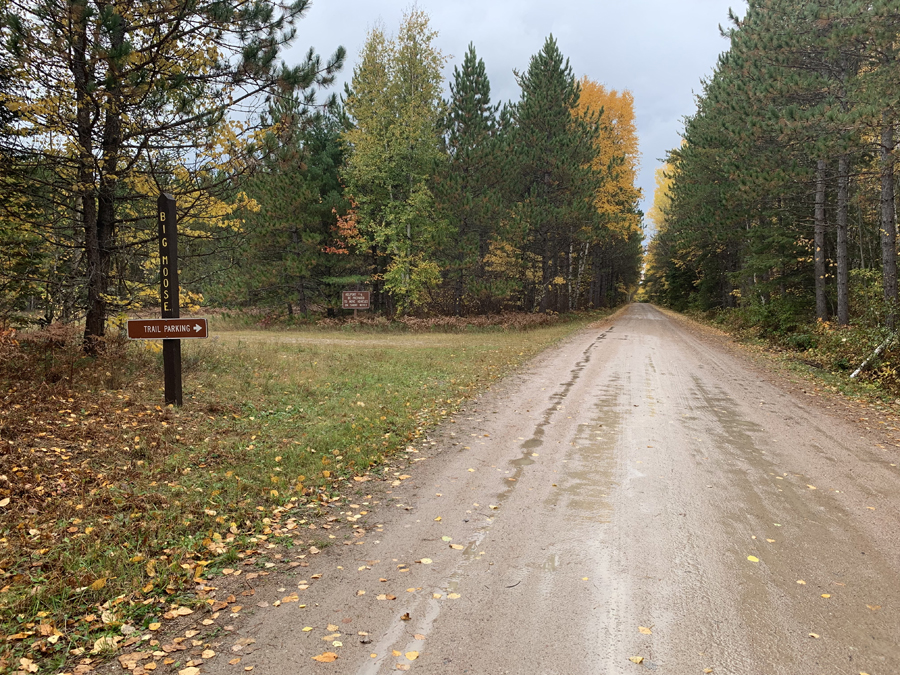 Upon reaching this sign, turn onto the access road (out of view to your right). Follow the access road to the parking lot. The sign in the background is there to alert you that the field is a helicopter landing area (used for rescues and forest reconaissance). Don't park in the helicopter landing area.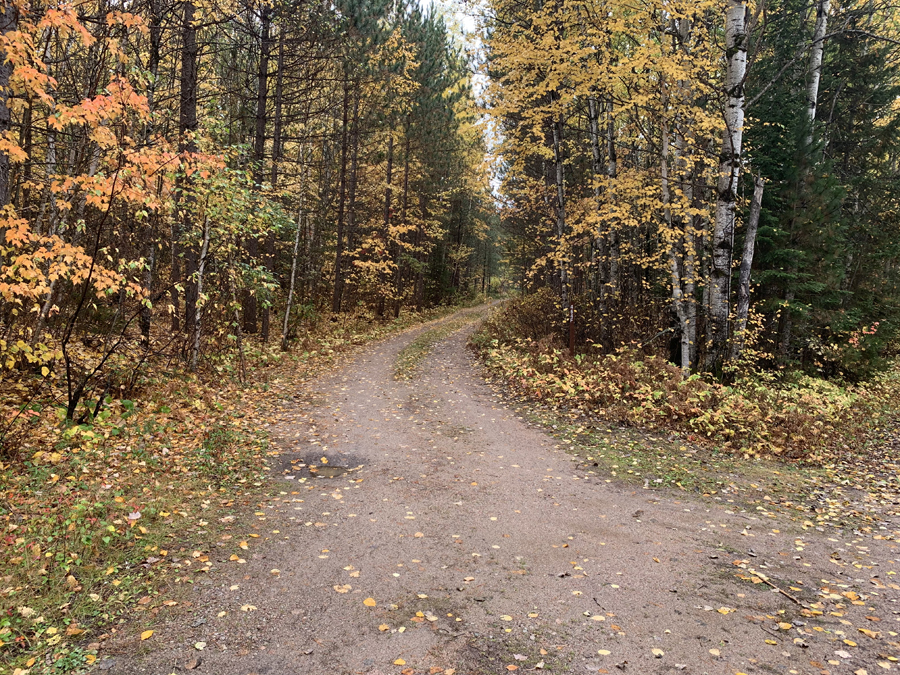 Typical view of the access road. Not too bad.

Arriving at the parking lot from the access road.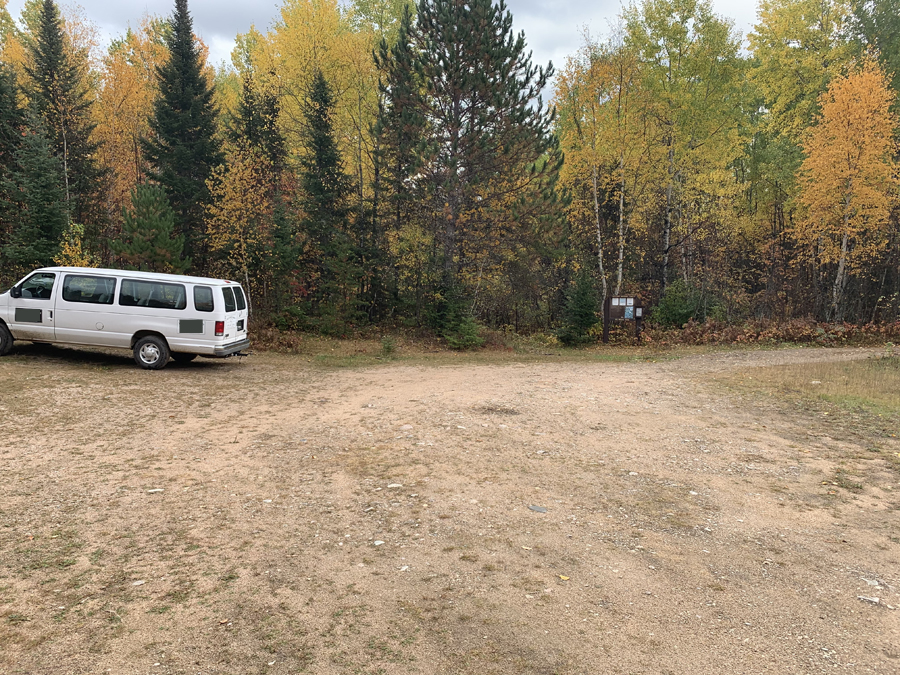 Large parking lot. Big Moose Trail gets some visitors, but is rarely busy.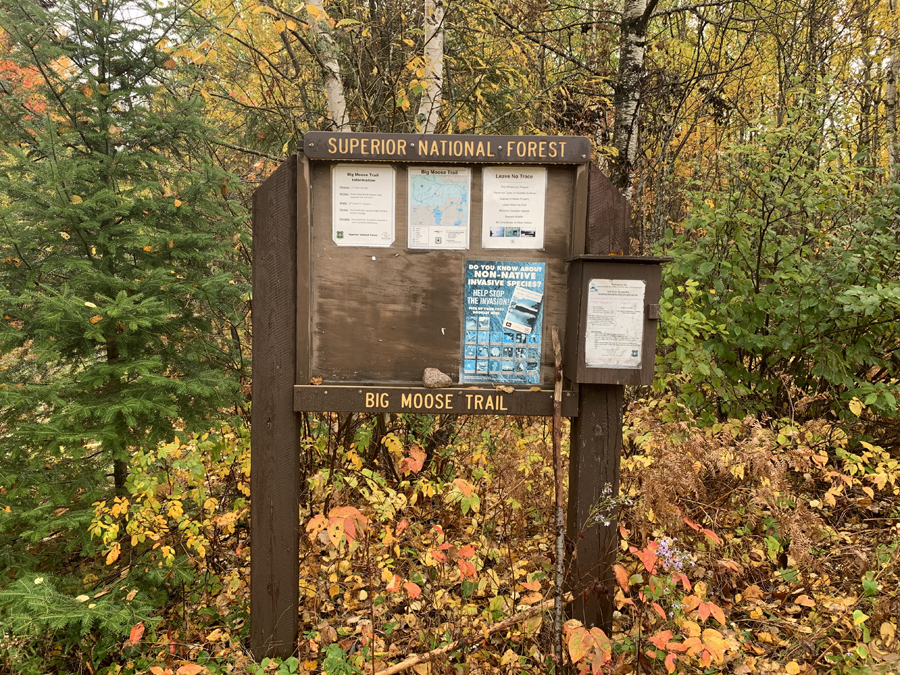 The old school bulletin board at the start of the trail. Most entry point bulletin boards have a newer design (as of 2020). Fill out a day permit which are found in the box on the right side of the sign.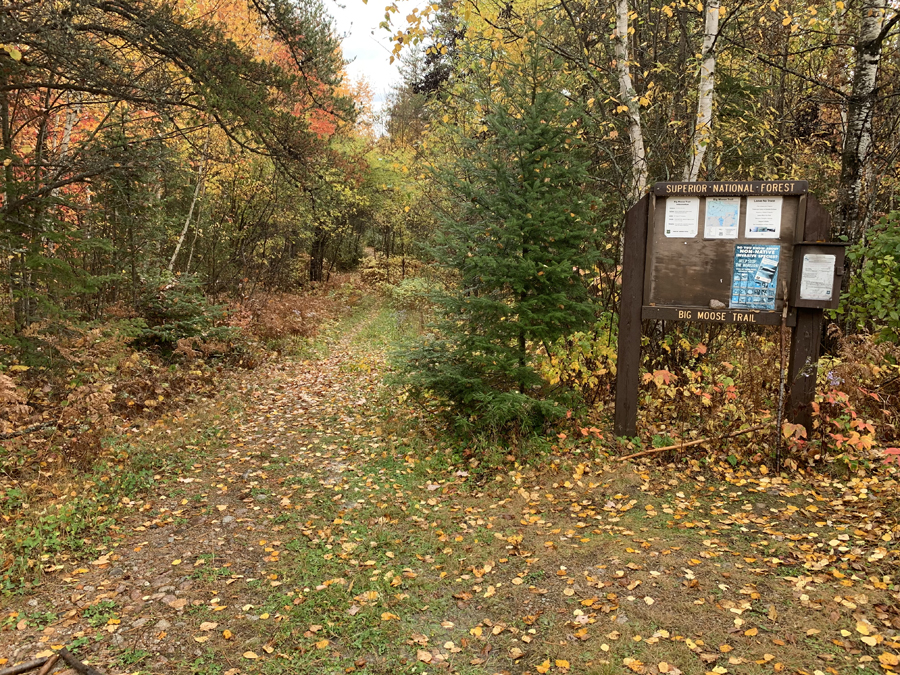 Trail starts to left of the sign. About 2 miles or so from here to Big Moose Lake.

Walking the Big Moose Trail during the fall season.
Now that you've reached the trailhead, start hiking the: BIG MOOSE TRAIL
Return to List of BWCA Entry Points (sorted by Entry Point Name or by Entry Point #)