Entry Point 42 - Brule Lake ONLY
Tofte Ranger District
With a permit for Entry Point 42 - Brule Lake ONLY, you MUST camp all nights on Brule Lake. You can take day trips to other lakes, you just must camp on Brule Lake.
The parking lot for this entry point is at the end of the road after you pass the Homer Lake Entry Point and the start of Brule Lake Trail which is about a quarter mile down the road from this parking lot. This parking lot is also shared by those hiking the Brule Lake Trail. These are the entry points served by this parking lot: 41, 42 (Brule Lake only) and 78 (Brule Lake Trail).
In Lutsen, turn off of Minnesota Highway 61 onto County Road 4 (Caribou Trail). Follow the Caribou Trail for 17 miles (first 7 miles are paved) until you reach The Grade (aka Forest Road 153). Take a left here and go 1.5 miles west to Brule Lake Road (Forest road 326). Turn right. It is 5 miles to the Brule Lake entry point (4 miles to the Homer Lake entry point).
A nice loop route is to go from the Brule Lake entry point to the Homer Lake entry point. It is just a short walk down the road (about a mile) from Homer Lake back to the entry point here on Brule Lake. Brule Lake also offers many other route options to the west, north and east.
You can drive right up to the edge of the lake to unload your canoe and gear. There is no portage necessary to get to the lake at this entry point. The landing is very smooth and made of fine gravel. The water is shallow and it is a very nice place to launch a canoe. The parking lot is fairly large. This parking lot also serves the Brule Lake Trail (entry point #78) parking requirements.
Exploring the Entry Point
Click on the photos below to see the full resolution image - Use your browsers back button to close photo and return to this page.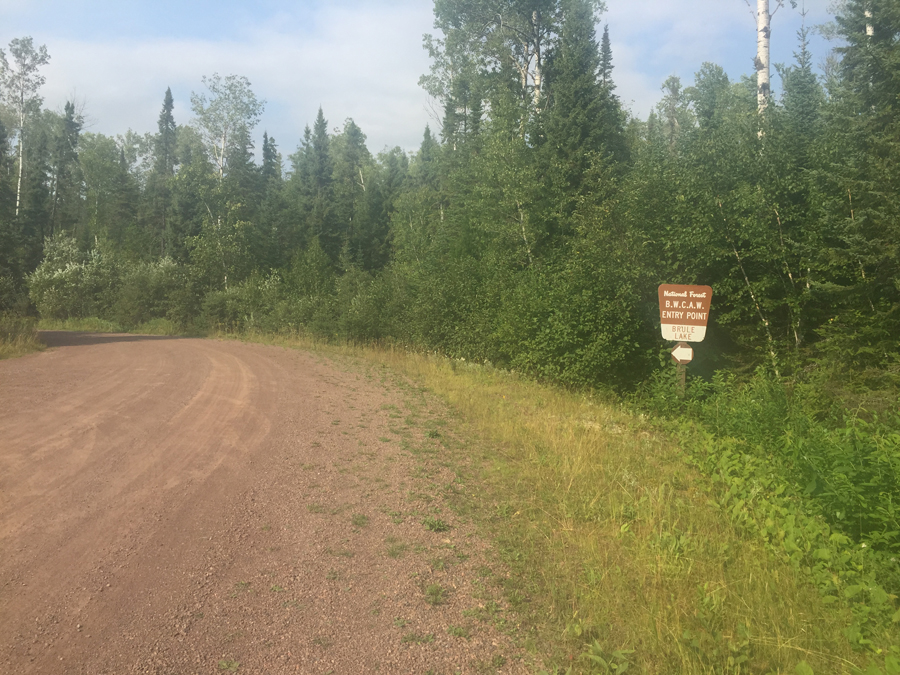 The Brule Lake entry point is found at the very end of the Brule Lake Road. Its parking lot is also used by hikers/backpackers using the Brule Lake Trail.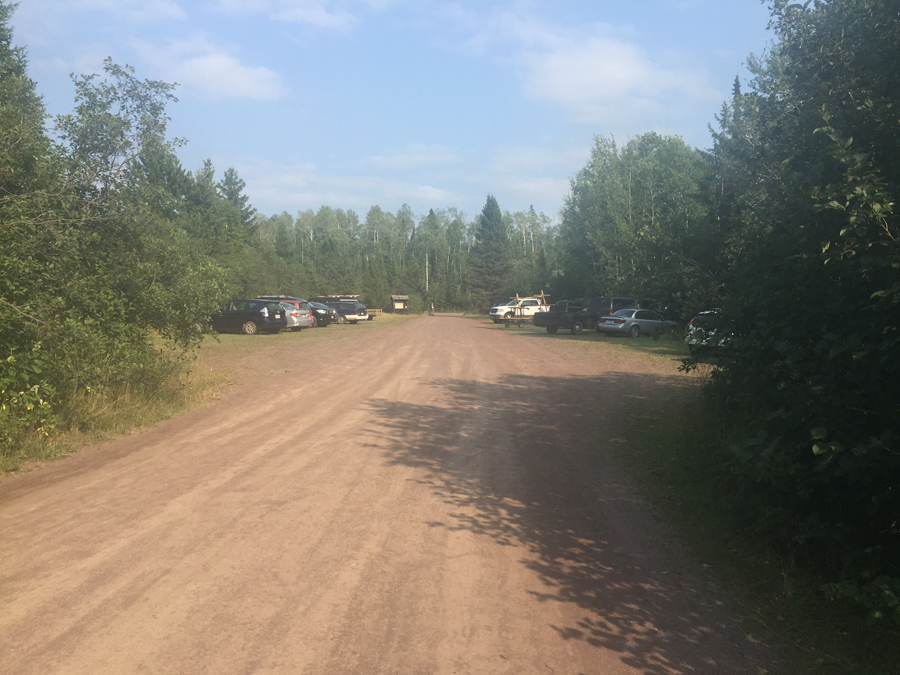 The sizeable parking lot at Brule Lake. The lake is behind you from this vantage point.

An exploration of the Brule Lake entry point parking lot and a quick view of the lake.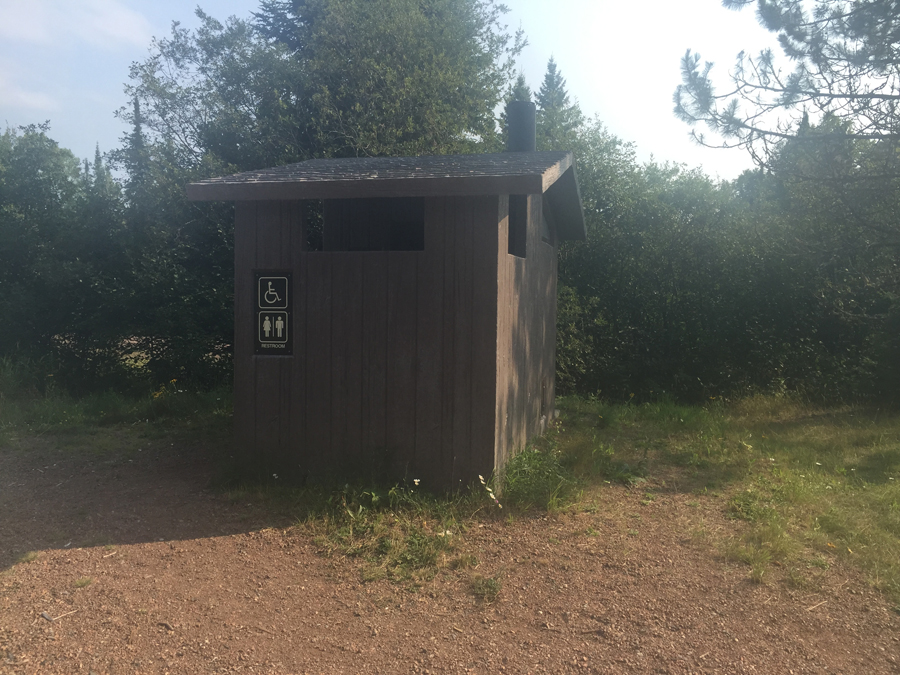 You will not find a more retched hive of scum and...be cautious. It was a warm day.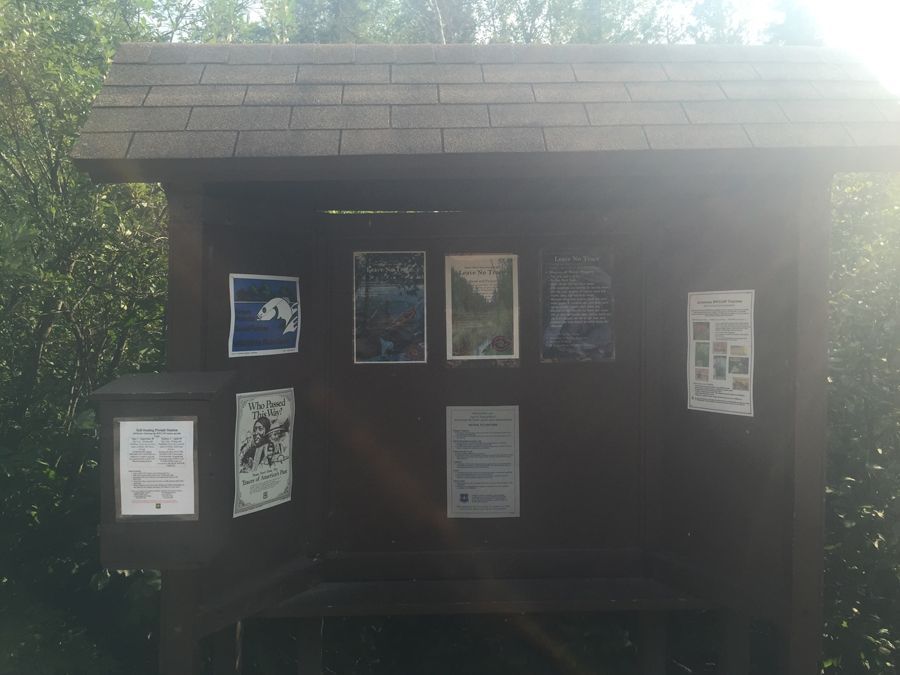 Bulletin board from Brule Lake Entry Point 41. There is a different bulletin board for the Brule Lake Trail Entry Point 78 on the other side of the parking lot.


The small bay where the Brule Lake entry point is located. This is a huge lake. Take care traveling on this lake when the wind is strong.
Now that you've reached the shore of the lake, visit: BRULE LAKE
Return to List of BWCA Entry Points (sorted by Entry Point Name or by Entry Point #)