Campsite on Angleworm Lake (#1900)
Campsite last visited on: September 18, 2015
This campsite is right along the route that paddlers will take to the Angleworm portage, which leads back to the parking lot. The site can also be used by backpackers and there is a path leading right up to the Angleworm Lake Trail. The area right around here is kind of swampy, so expect to hear a lot of buzzing in your ears. Meaning you will also probably go through a lot of bug spray. This site also probably doesn't get much of a breeze given its location.
Also, the privy is located very close to the fire grate. So if you relish privacy when doing your business, don't camp here.
Click on the photos below to see the full resolution image - Use your browsers back button to close photo and return to this page.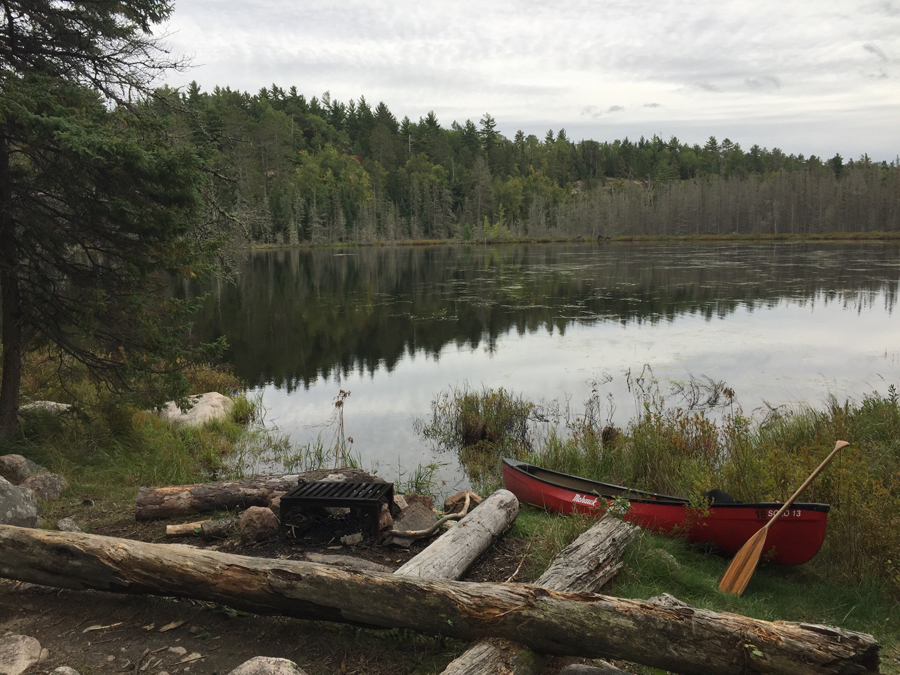 A view of the shallow south end of Angleworm Lake from the lakes most southern campsite. This campsite is on the west shore of the lake, just north of the portage landing.

A virtual visit of the southern most campsite on Angleworm Lake. This is the campsite just north of and up the west shore from the entry point portage. This campsite is also directly connected to the Angleworm Lake Trail. Campsite is used by backpackers and paddlers.


This wide view gives you are good idea of how marshy the area is around this campsite. Bzzzzzzzzzzzzzzzzzzzzzzzzzzzzzz. That's not the sound of a helicopter, it's the giant mosquitos.

The somewhat squishy landing. View is straight across this narrow lake from the campsite.
Return to paddling on: ANGLEWORM LAKE
Back to List of BWCA Campsites