Gillis Lake
Gunflint Ranger District
This can be an excellent lake for Lake Trout fishing. The area out in front of the bay leading to the Crooked Lake portage is perhaps the most tempting. Just troll a spoon around the lakes contours to find the fish. A couple good sized islands spot the west end of the lake. Fishing between them can be productive. A large cliff is on the northern and smaller of these two islands. The lake has few northerns, but they tend to be large (probably feeding on nice fatty lake trout).
Gillis Lake's water drains out the middle to the south just west of the portage to Crooked Lake. A small creek carries the water from Gillis Lake into Crooked Lake. The entire drop along this short creek is 14 feet between Gillis Lake and Crooked Lake. There are six large islands of the lake; one over 30 acres. The shoreline is a tad over nine miles long.
There are quite a few campsites on Gillis Lake, but a few of them were impacted by the Cavity Lake Fire. There is a very nice campsite on the east side of the lake just west of Fishgig Lake.
If you are looking for wildlife or a little adventure, try bushwhacking back into Fishgig Lake. It is a late stage lake with a lot of wetland surrounding it.
Gillis Lake is at crossroads in the BWCA. There are routes to Bat Lake, Crooked Lake, Fern Lake and French Lake from here.
Until the recent Cavity Lake Fire in 2006, Gillis Lake had avoided the torch since 1875. The 1864 fire in this area burned almost all of the forest surrounding Gillis Lake.
Exploring Gillis Lake

A near perfect view of a small island offshore from the Bat Lake portage landing.

From the Bat Lake portage landing, you take an evening paddle along the eastern shoreline of Gillis Lake. You eventually make it to a campsite in the east/southeast part of the lake. This campsite is just west of Fishgig Lake.


Gillis Lake looking west. It is mid-October. View from the only campsite on the east shore of Gillis Lake.

Starting out in the morning from campsite on eastern shoreline of Gillis Lake, you stay along the shore and make your way over to the Crooked Lake portage landing.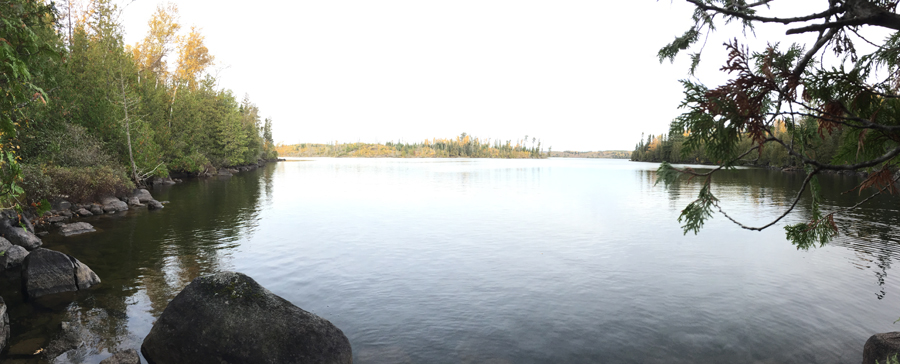 A look to the north from the beginning of the portage that leads to Crooked Lake.
Route Connections for Gillis Lake
From Gillis Lake, you can portage to Bat Lake, Crooked Lake, Fern Lake or French Lake.