Brule Lake Trail
Tofte Ranger District
Entry Point #78 for the Brule Lake Trail is found at the end of Forest Road 326. This is also known as the Brule Lake Road. The actual start of the Brule Lake Trail doesn't start at Brule Lake, but rather about a quarter-mile back up the road. You will see the sign for it on your way to park your car at the entry point parking lot.
The Brule Lake Trail is mostly level. The entire trail is 6.7 miles until it intersects with the Eagle Mountain Trail close to Whale Lake.
The Brule Lake Trail offers several scenic vistas including Fishhook Lake and several small unnamed lakes and ponds. The trail itself can be hard to see sometimes depending on how recently trail clearing activities have taken place.
There is a spur trail that leads to the Brule Lake Lookout Tower about a quarter mile or so from the western trailhead by Brule Lake. Fishhook Lake is near the middle of the trail. The trail crosses Ball Club Creek about three miles northwest of Whale Lake. This crossing can be washed out if trail crews haven't repaired it (early in the year for example).
Hiking the Brule Lake Trail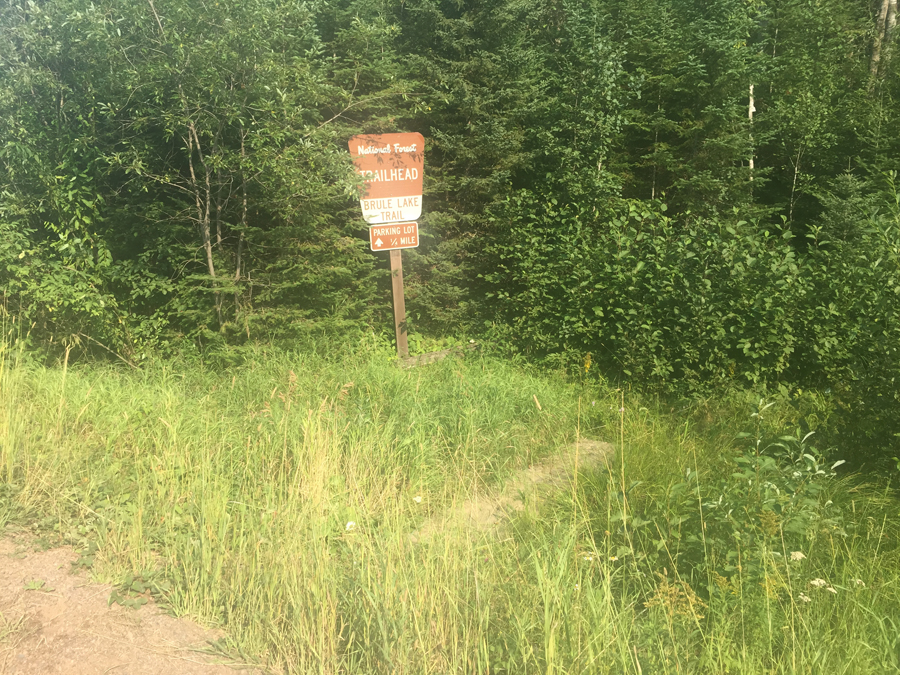 Standing on the road, you see a wooden plank in the grass (barely visible) to cross the ditch. The parking lot is a 1/4 mile up the road from here.

Shortly after you walk off the road (Brule Lake Road), you come to this permit box. You can see the trail leading into the woods just to the right of the permit box. The Brule Lake Trail is 6.7 miles long from this trailhead to the intersection with the Eagle Mountain Trail. It is another 2.8 miles from there to the Eagle Mountain Trail parking lot (Entry Point #79).
MISSING ALL OF THE BRULE LAKE TRAIL BETWEEN THE TRAILHEAD AND ITS INTERSECTION WITH THE EAGLE MOUNTAIN TRAIL. ONLY THE ENDS OF THE BRULE LAKE TRAIL ARE SHOWN SO FAR ON THIS PAGE.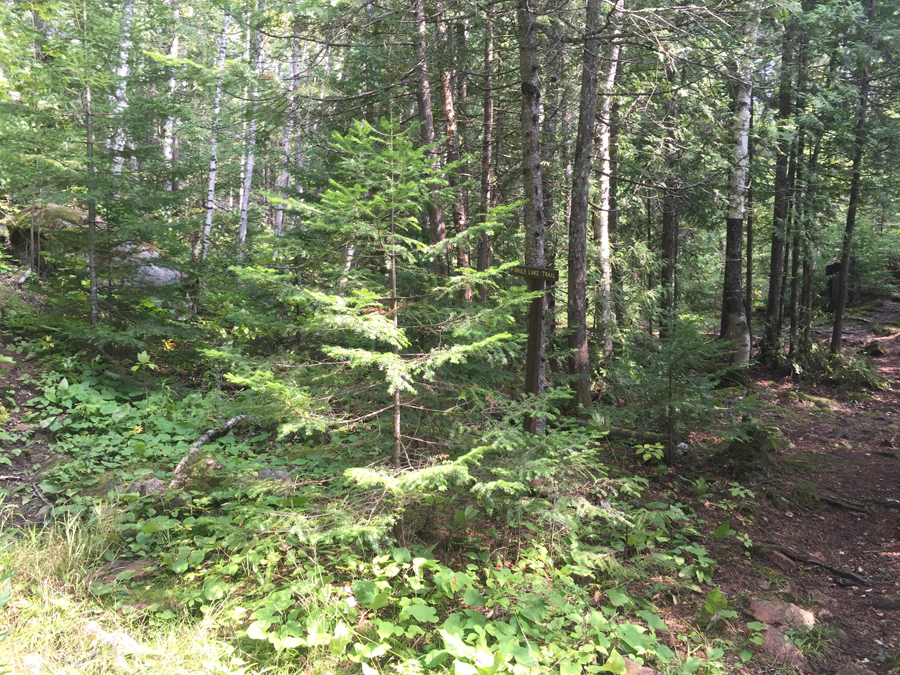 The small sign near the middle of your view points out that the Brule Lake Trail goes to the left here. The trail on the right is the trail leading from the Eagle Mountain Trail to the campsite on the north side of Whale Lake. It was very difficult to follow the Brule Lake Trail on this end at the time of last visit.
Return to the List of BWCA Hiking Trails