Three Eagle Lake
Access Three Eagle Lake across a short portage of perhaps 10 rods. This portage, while not maintained by the U.S. Forest Service, gets enough use to make it easy to follow. The portage can be found when approaching the middle bay on the north side of Jordan Lake. There is a nice sand beach to land your canoe. Some rock outcroppings are just to the right of the sandy beach.
When I visited this lake, I was planning on bushwhacking into Solitude Lake from the north end of Three Eagle Lake. While a motivated bushwhacker could certainly do it, it is likely easier to approach Solitude Lake from Ima Lake.
There are definitely northern pike swimming in Three Eagle Lake. I didn't fish for them, but I saw them swimming in the shallows. Nothing of any size seen. Much of the lake has a sandy bottom which is uncommon in the boundary waters. Some old literature indicates that Three Eagle Lake once had a maintained campsite. The old campsite was located in the southwest corner of the lake on the west shoreline. Other places can easily be found on this lake in which to camp. Given its easy access from Jordan Lake, consider just camping on that lake.
Approach to Three Eagle Lake

You are crossing the last part of Jordan Lake, heading toward the sandy beach landing that marks the start of the easy bushwhack into Three Eagle Lake.

Canoe pulled up on the sandy beach on Jordan Lake where portage begins into Three Eagle Lake. Canoe pullouts don't get much nicer than this!
Bushwhack to Three Eagle Lake
The bushwhack which is more of a portage is included in the 'Approach' video above.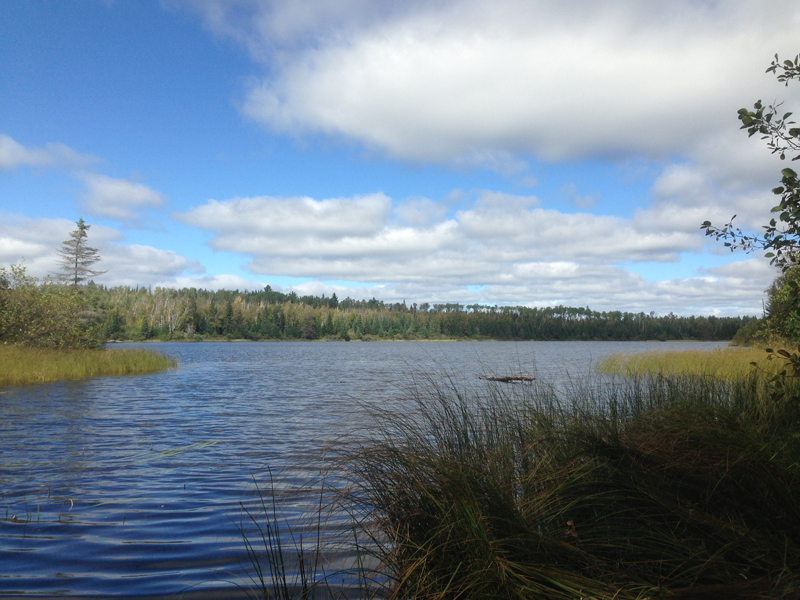 View of Three Eagle Lake from the end of the portage leading back to Jordan Lake. This view happens to be on the first day of fall.
Exploring Three Eagle Lake

Slow pan of Three Eagle Lake from where the portage trail starts back to Jordan Lake.


Your view from the canoe of most of the east shoreline of Three Eagle Lake.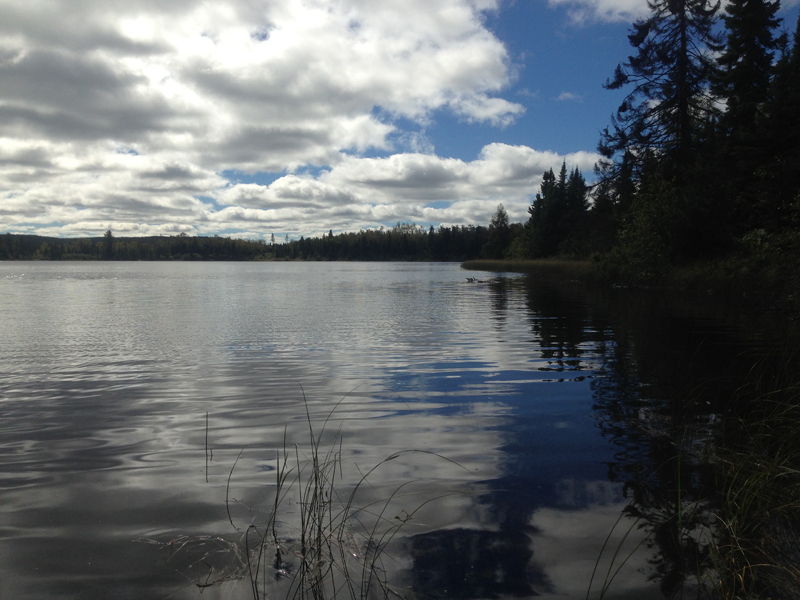 You are looking towards the south across the entire lake from the north shoreline of Three Eagle Lake. This is the area where you could consider starting a bushwhack to Solitude Lake.

Your view of Three Eagle Lake looking southwards from the lakes north end.