Koma Lake
Tofte Ranger District
Koma Lake is a nice sized lake; not to big, not to small. The lake has a hard, sandy bottom which is evident at some of the campsites and when paddling along parts of the shoreline. The lake is on the Kawishiwi River route to Malberg Lake. There are no other routes coming or going from this lake. There is a small lake not too distant from southwest corner of Koma Lake. This is Fantail Lake. Unknown how difficult the bushwhack is to get back into that lake.
For a relatively small lake, there are a good number of campsites on Koma Lake. At the time of last visit, the middle campsite along the north shoreline was non-existant. The campsite nearest to the Malberg Lake portage is small with a rather bland view, but it does have a sand beach/canoe landing. The campsite on the peninsula is the most desirable on the lake, but it is often occupied.
Koma Lake has descent walleye fishing. One notable spot is where the Kawishiwi River flows into the lake. Northern pike are also pretty common in the lake.
Exploring Koma Lake

Fairly late in the evening, on a calm night, you exit the Kawishiwi River and start paddling north across Koma Lake keeping closest to its western shoreline.

Continuing along from the middle of Koma Lake, you paddle to the north end of the lake and meander around a bit in search of a campsite for the night. It is late in the evening and daylight is waning.

Setting out from camp early in the morning, you head west down the shoreline toward the portage leading to Malberg Lake. It is looking like rain.

A light rain has begun. It's the type of rain that looks like it will be with you all day. You clear the north end of Koma Lake and pull up to the portage leading north to Malberg Lake.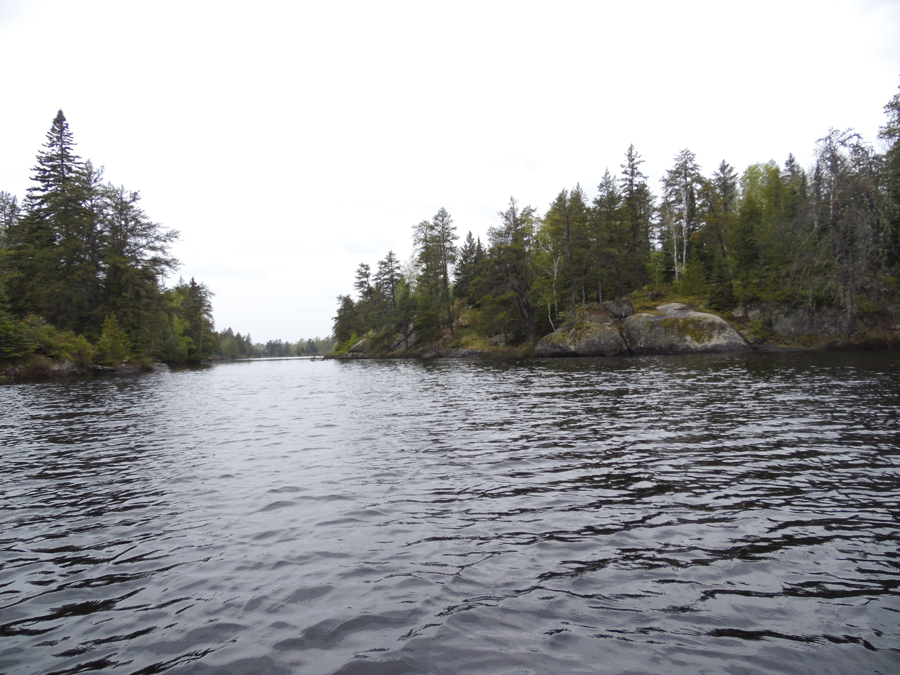 You look back to the south from near the portage to Malberg Lake.
Route Connections for Koma Lake
From Koma Lake, you can paddle and portage along Kawishiwi River to Lake Polly. You can also portage along Kawishiwi River (which flows through Koma Lake) into Malberg Lake.