BWCA Entry Point 39 - Baker Lake
Tofte Ranger District
From Tofte, Minnesota, follow the Sawbill Trail (Cook County Road 2) north and inland from Lake Superior. After just a few miles, this road becomes a dirt road. You will pass the Temperance Lake Campground on your left 12 miles out of Tofte. Continue past the campground. Eventually you come to an intersection (which is signed). Follow the direction sign for Baker Lake from this point. .
Besides the entry point, the Baker Lake Rustic Campground managed by the U.S. Forest Service is also located here. It is completely free to camp here and no reservations are required.
There is only one route option out of Baker Lake and that is to the north into Peterson Lake and then into Kelly Lake. From Kelly Lake, you can continue north along the Temperance River route or head west into the "Fire Lakes" which consists of Burnt Lake, Smoke Lake and Flame Lake. Sawbill Lake is accessible via 100 rod portage to the west of Smoke Lake.
Exploring the Entry Point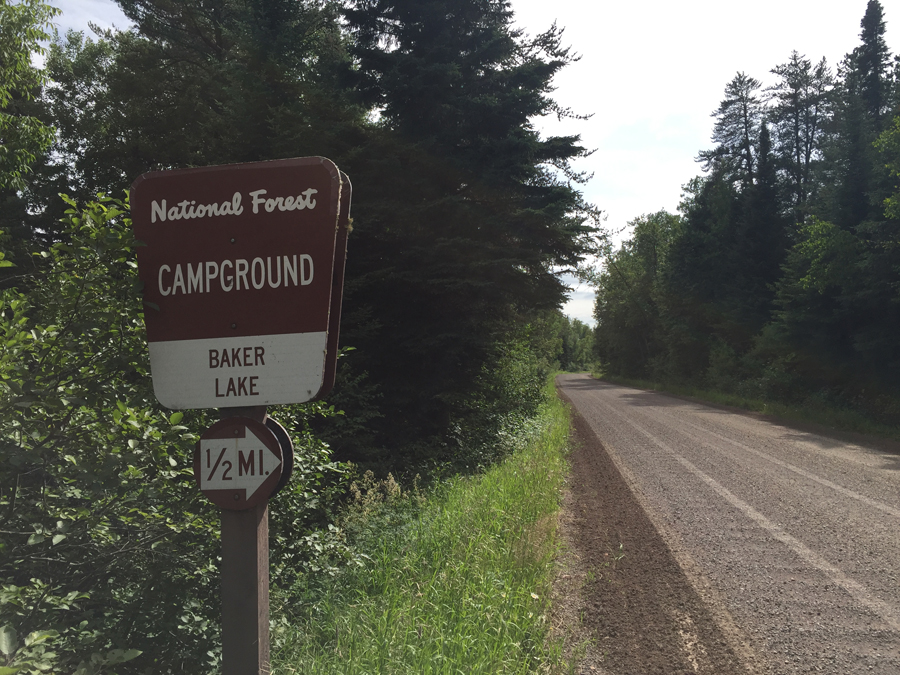 The sign points the way. Note that this sign/turnoff to the Baker Lake entry point is right by a bridge. The Temperance River flows under that bridge and standing on that bridge offers some nice views.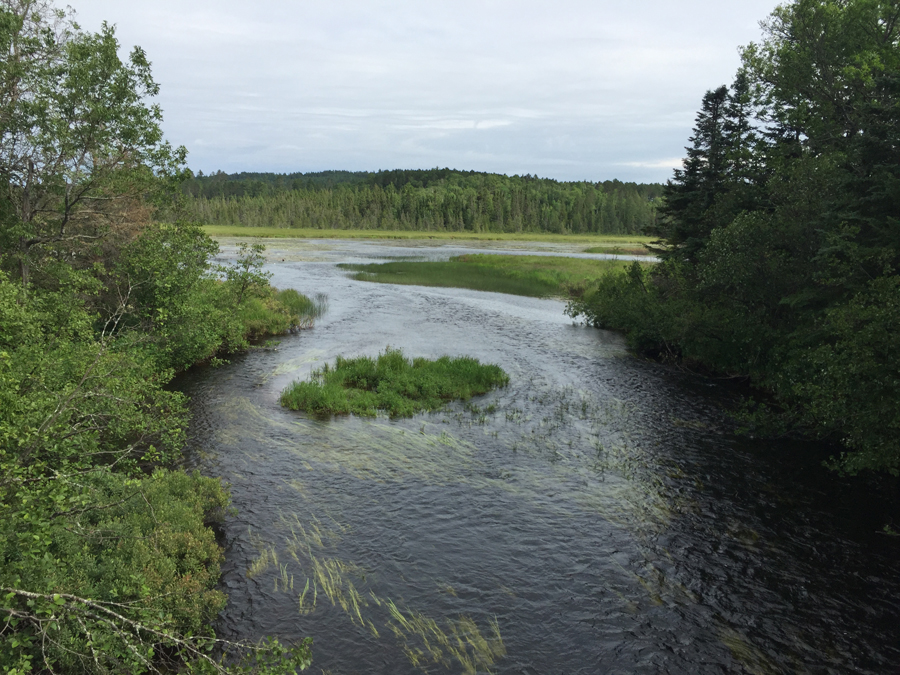 A view of the Temperance River from the bridge the road crosses. This is just 100 feet from the sign for the Baker Lake entry point. This is looking downstream where the river enters a marshy flatwater section.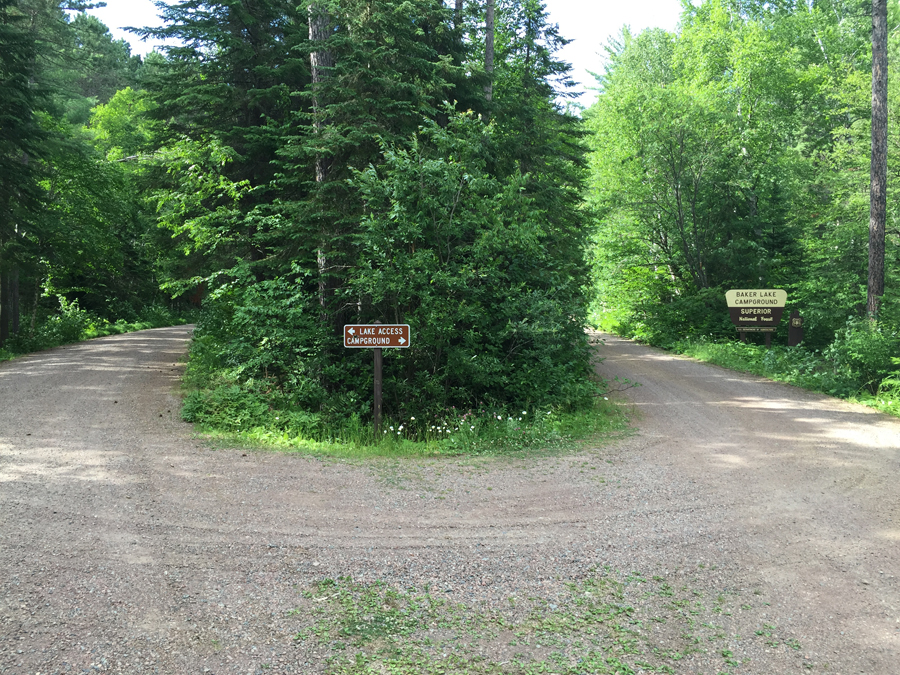 After turning off the main road, you come to a decision point. Entry point is to the left.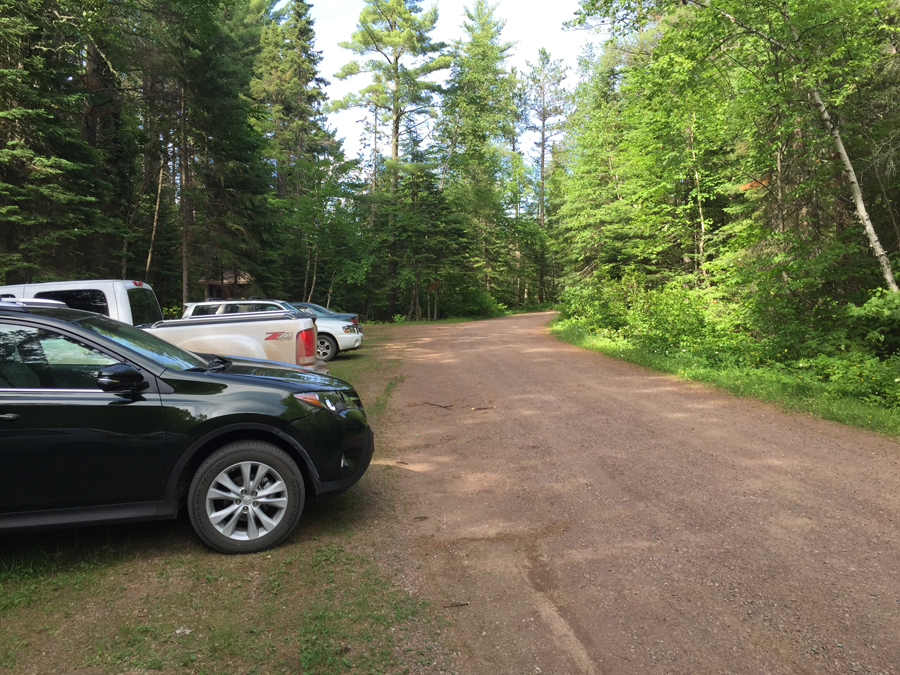 You soon come to the parking lot. To unload your gear, you can drive right down next to the lake and then bring your car back and leave it here.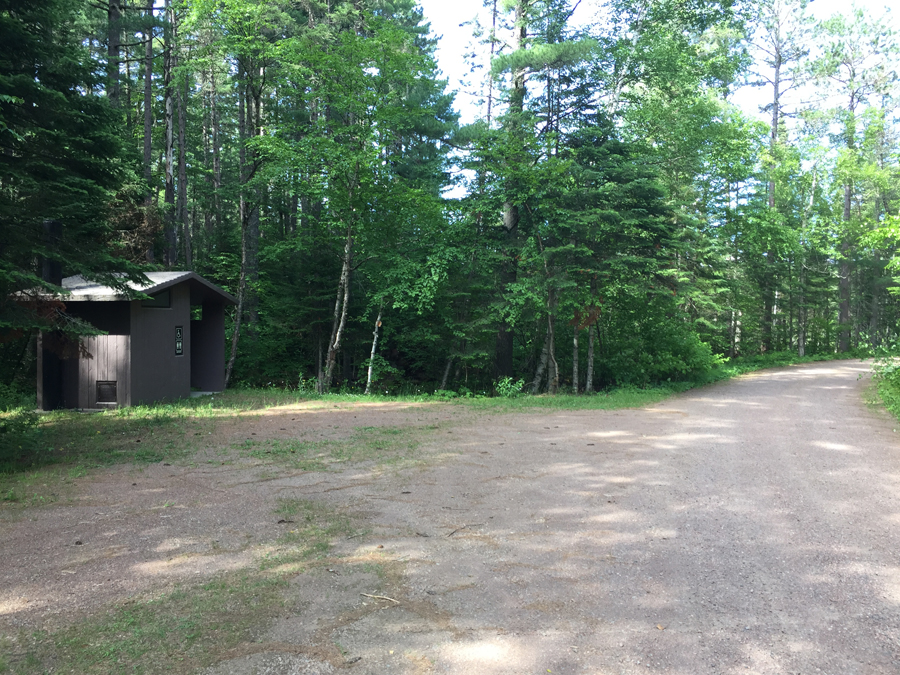 If you gotta go, the building on the left. The road to the right heads down to the lake from this end of the parking lot.

Checking out the Baker Lake entry point. Walking from the canoe landing at the edge of the lake back to the parking lot.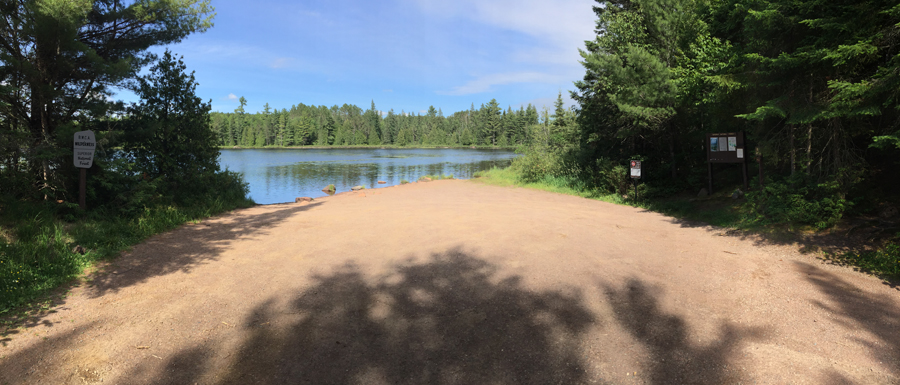 Your first view of Baker Lake after you park your vehicle.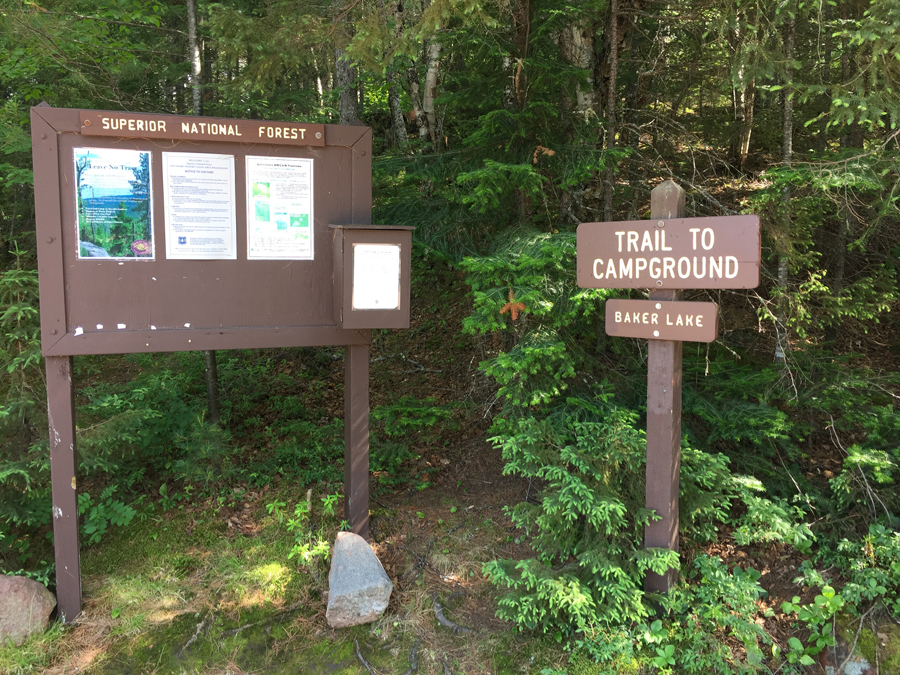 A rather frugal bulletin board adorns the Baker Lake entry point. There is a trail just to the right of the signage (just out of view) that leads to the Baker Lake Rustic Campground which is run by the U.S. Forest Service.


A view of Baker Lake from the entry point canoe landing. You can see about two-thirds of this small lake standing right here. The only route is up to Peterson Lake to the north which is out around the point to the far left. To the right is where the Temperance River exits Baker Lake (and also exits the BWCA) on its journey to Lake Superior. Baker Lake, Peterson Lake and Kelly Lake even further north of Peterson Lake are all just wide sections along the Temperance River.
Return to List of BWCA Entry Points (sorted by Entry Point Name or by Entry Point #)