Smoke Lake
Tofte Ranger District
Smoke Lake is one of the three lakes east of Sawbill Lake with a name related to fire. These are the "fire" lakes.
Smoke Lake is a relatively shallow lake bordered by marsh along good stretches of its shoreline.
Since it is the first lake off of Sawbill Lake and very close to the entry point for this area, the four campsites on Smoke Lake can fill up quick. Burnt Lake over the next portage can be similarly busy. Beyond Burnt Lake, you must traverse a long portage of 230 rods to reach Kelly Lake. Therefore, find a campsite early if you don't plan on going further this day.
Smoke Lake has no tributaries other than runoff from the surrounding land. Much of the area around Smoke Lake is boggy and low. The water from Smoke Lake flows out the northern tip of the lake through a slow moving creek. This creek flows for about a mile through lowland to the north before emptying into Sawbill Lake. If you are up for a little exploration, try paddling this creek to Sawbill Lake from Smoke Lake. It is flat water and the creek only loses a single foot of elevation over a mile on its way to Sawbill Lake. There are probably a few beaver dams to hurdle and muck and other obstructions to navigate.
Exploring Smoke Lake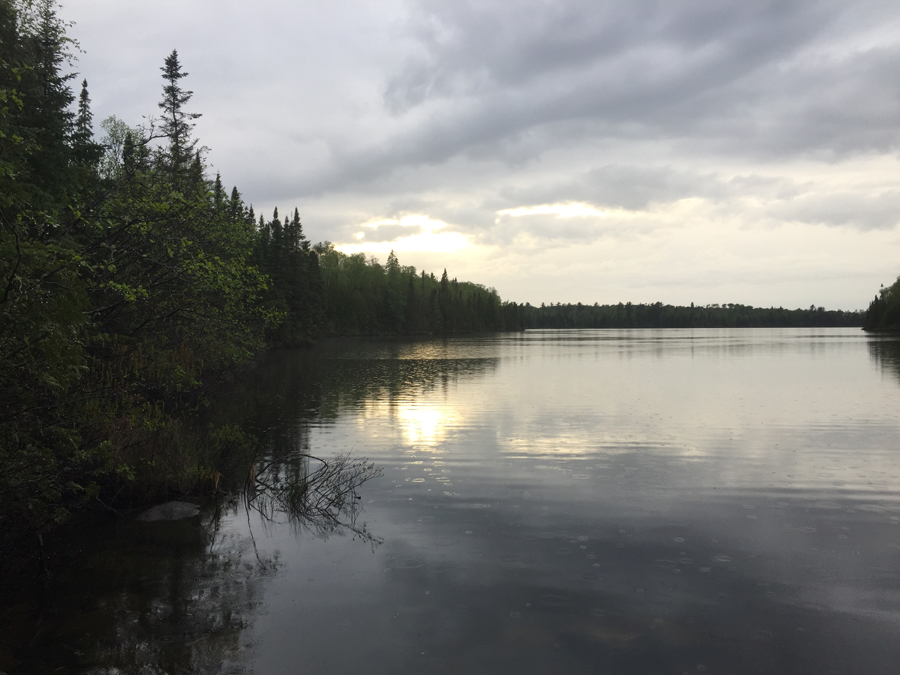 Smoke Lake near sunset during a light rain not far from the Burnt Lake portage. Looking off to the northwest.

As evening quickly approaches and the rain moves out of the area, you paddle from the Burnt Lake portage over to the Sawbill Lake portage which begins at the end of a wooden dock built out into the marsh.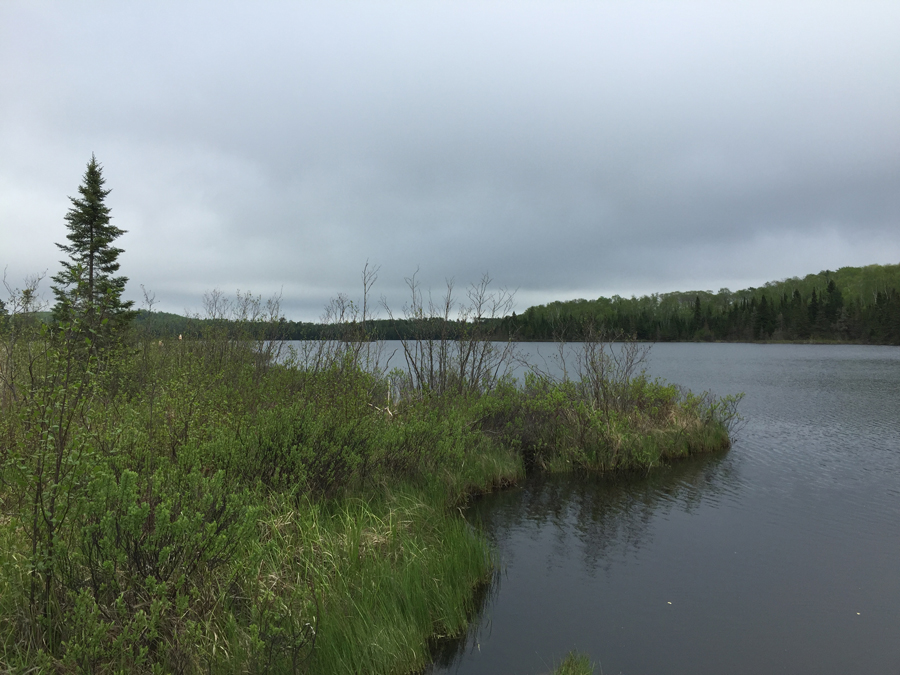 Peat bog shoreline which is found along much of Smoke Lake.


View of Smoke Lake from the portage landing for Sawbill Lake. There is a wooden boardwalk structure that extends out into Smoke Lake through the peat bog. You are currently standing on it. Note the peat bog just left of center which is right at the end of the boardwalk at your feet. Don't be tempted to take a step onto it, as it is floating peat bog and will not support you.
Route Connections for Smoke Lake
From Smoke Lake, you can portage to Burnt Lake or Sawbill Lake.