Entry Point 38 - Sawbill Lake
Tofte Ranger District
This entry point is next to Sawbill Canoe Outfitters at the end of the Sawbill Trail (County Road 2). The parking lot is across the gravel road from the main lodge. The parking lot is a couple hundred yards from the lake, but there is an unloading area right next to the water. There is also a dock here.
It is 23.5 miles from Tofte, Minnesota to Sawbill Lake. All of the drive is along the Sawbill Trail. Only the first few miles closest to Tofte is paved. The rest is gravel.
There are four canoe routes out of Sawbill Lake. One to the west into Alton Lake just up the shore from the put in. Another route to the west is into the Kelso River and Kelso Lake beyond. This route then heads off to the north. Along the east shore, a bit under two miles north of the entry point, is a portage of 100 rods into Smoke Lake. The fourth route involves paddling all the way to the north end of the lake and portaging into Ada Creek. This is the way up to Cherokee Lake.
Exploring the Entry Point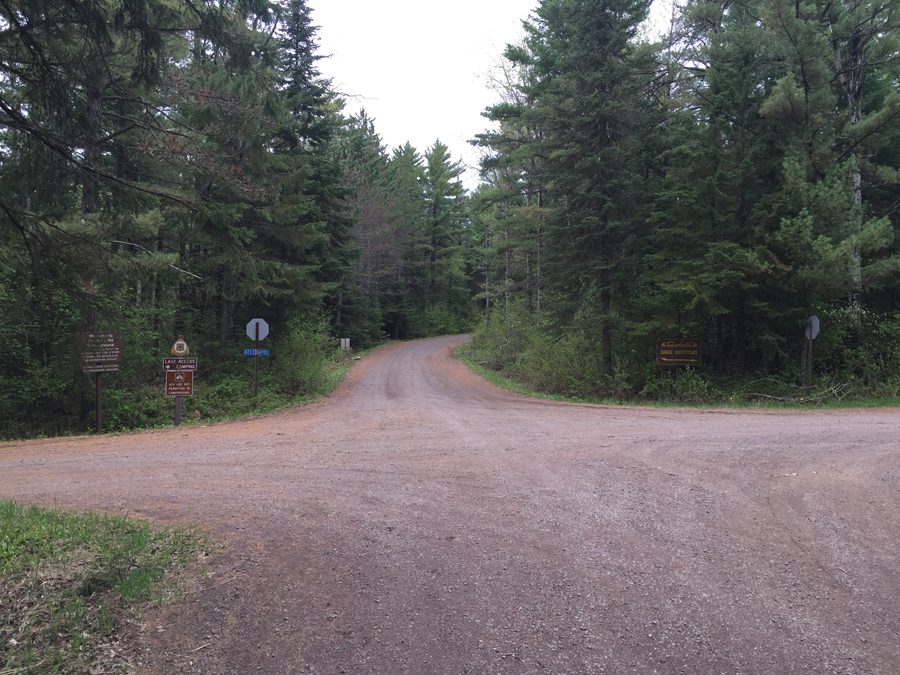 At the end of the Sawbill Trail, you come to this four way intersection. To the right is the public parking area for this entry point and the main lodge for Sawbill Canoe Outfitters directly across the road from it. To the left is the road down to Sawbill Lake (maybe 150 yards) and an unloading area (you don't have to carry all your stuff from the parking lot). Straight ahead is the Sawbill Lake Campground run by the National Forest Service.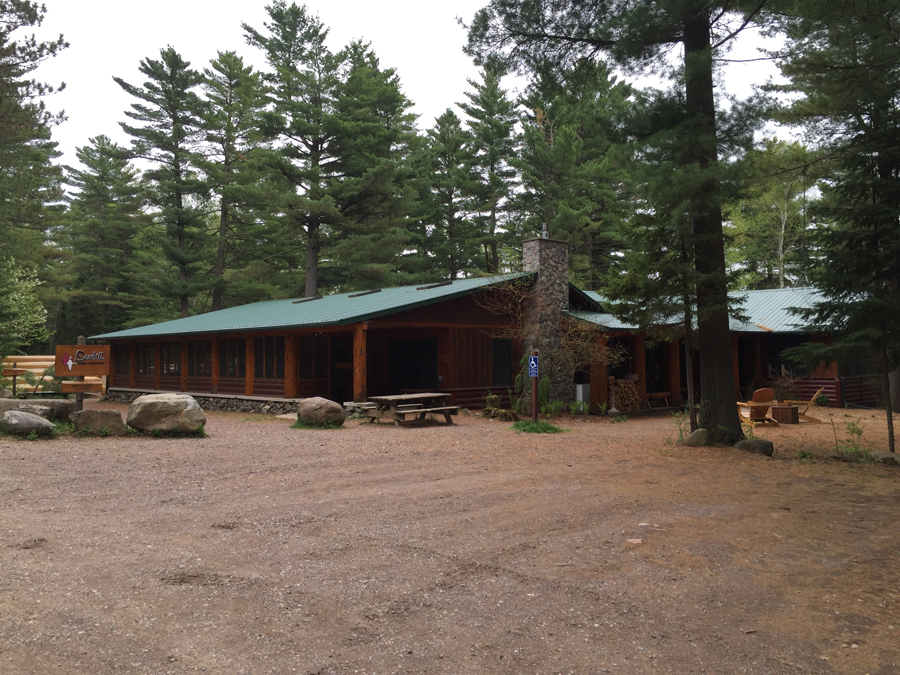 The Sawbill Lodge. The public parking area for this entry point is directly across the road over your left shoulder from this viewpoint.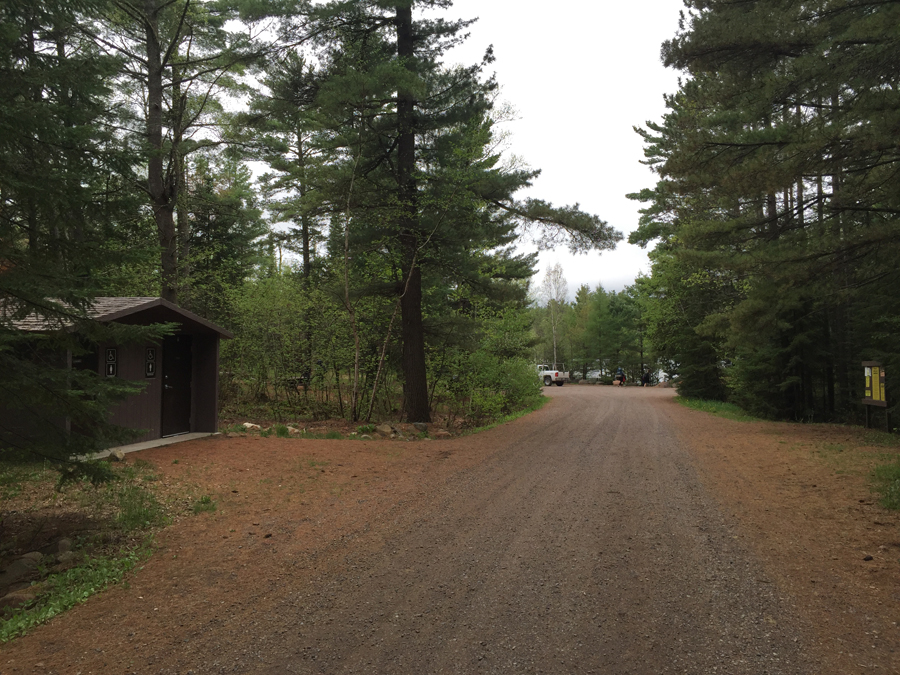 The road down to Sawbill Lake and the unloading area. Restrooms here to your left. That pickup truck in the distance is parked in the loading area.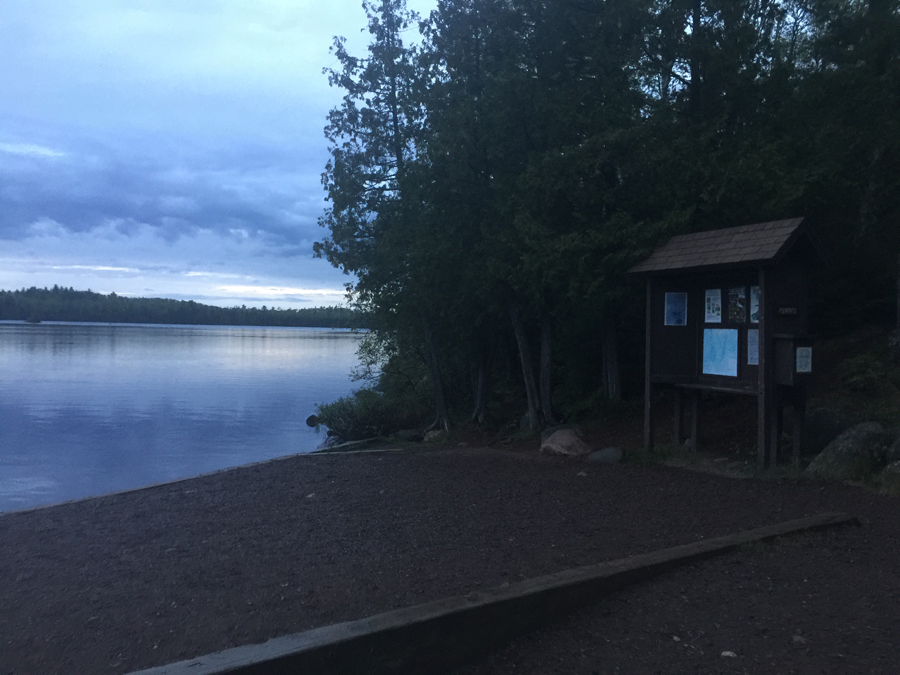 The commonly seen bulletin board by the lake. This is where you can find any special notices. The box on the right side is used to fill out self-service day permits if you are only entering the BWCA for the day and not camping.

Walking around the BWCA Entry Point 38 - Sawbill Lake near nightfall. Walk is from the canoe landing at the lake up to the lodge and the public parking lot.


A view of the very south end of Sawbill Lake and the dock located at this entry point.
Return to List of BWCA Entry Points (sorted by Entry Point Name or by Entry Point #)