Bridge Lake
Kawishiwi Ranger District
Bridge Lake is surrounded by a forest that was last burned in 1910. It is a long, skinny lake with its two halves connected by a very narrow channel. To get to Bridge Lake, you can either come from Lake Four, or you can travel over two portages from Lake Two. Bridge Lake is part of a nice loop from Lake Two, out to Lake Four and back to Lake Two.
The mouth of Drumstick Creek is located on the northeast shoreline of Bridge Lake. (Note: Drumstick Creek is mislabeled on most maps and is shown as having its mouth at the west end of Fire Lake. The mouth of Drumstick Creek is at Bridge Lake after it flows through Quartz Lake and Delta Lake.) The mouth is marked by several large rocks sticking out of the water. If you are looking for some adventure, head up Drumstick Creek. After about a mile following the creek, you will come to some rapids flowing down from Delta Lake. The portage is on the right. This is an uphill portage, short and sweet. Delta Lake is at the entrance to the Drag Lake Primitive Management Area, an area that is no longer managed by the U.S. Forest Service. Delta Lake is half within the PMA and half outside of it. There is one campsite on Delta Lake that is probably one of the most sought after locations in the entire BWCA for solitude seekers. The campsite is outside of the PMA so you do not need a PMA permit to stay there. Note that PMA permits are available where you pick up your regular BWCA permit. You just have to ask for it.
There is little information on the fishing potential of Bridge Lake, so you will have to discover its virtues for yourself.
Exploring Bridge Lake

A look at much of the west end of Bridge Lake. The mouth of Drumstick Creek can be seen just left of center in the far distance.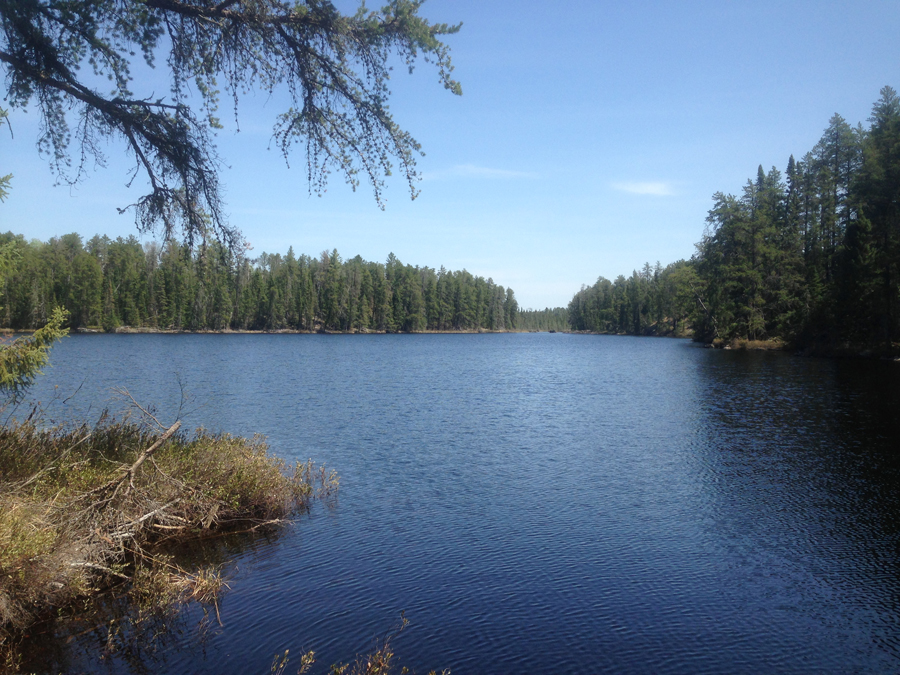 Standing at the end of the portage back to Rifle Lake, peering across the lake (just right of center), you can make out the mouth of Drumstick Creek. Drumstick Creek flows down from Delta Lake. To your right is a narrow channel that leads toward the southeast end of Bridge Lake and Lake Four beyond.

You need to take a relatively short paddle in your canoe to get from the Rifle Lake portage, across Bridge Lake, to the mouth of Drumstick Creek.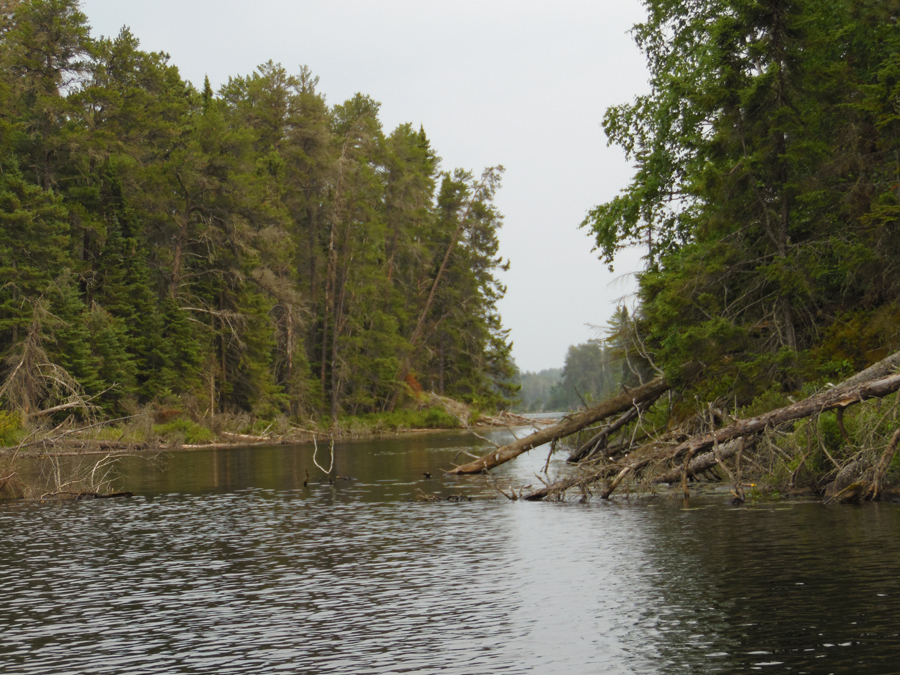 As you paddle across Bridge Lake, you peer down the narrows that lead to the eastern part of the lake. The eastern end of the lake has a portage to Lake Four.
Route Connections for Bridge Lake
From Bridge Lake, you can portage to Lake Four or Rifle Lake. You can also bushwhack into Drumstick Creek (and the Drag Lake Primitive Management Area beyond).