Entry Point 78 - Brule Lake Trail
Tofte Ranger District
In Lutsen, turn off of Minnesota Highway 61 only County 4 (Caribou Trail). Follow the Caribou Trail for 17 miles (first 7 miles are paved) until you reach The Grade (aka Forest Road 153). Take a left here and go 1.5 miles west to Brule Lake Road (Forest road 326). Turn right. It is 5 miles to Brule Lake Trail entry point (4 miles to Homer Lake entry point).
Once you get your gear unloaded from the car or truck, you have to walk about a quarter-mile (roughly 80 rods) back down the Brule Lake Road to the start of the trail. You passed the trail when driving to the parking lot. It is well marked with a sign. There is a permit box here if you are day hiking. The trail is obvious and appeared easy to follow on this end. Checking this trail on the far end (near the connection to the Eagle Mountain Trail), it was not easy to follow. The trail is 6.7 miles long. The other end connects to the Eagle Mountain Trail near Whale Lake. It is another 2.8 miles from the intersection of the two trails to the Eagle Mountain Trailhead.
Exploring the Entry Point

The parking lot for the Brule Lake Trail. Brule Lake is in the background. The paddlers using the Brule Lake entry point also use this parking lot.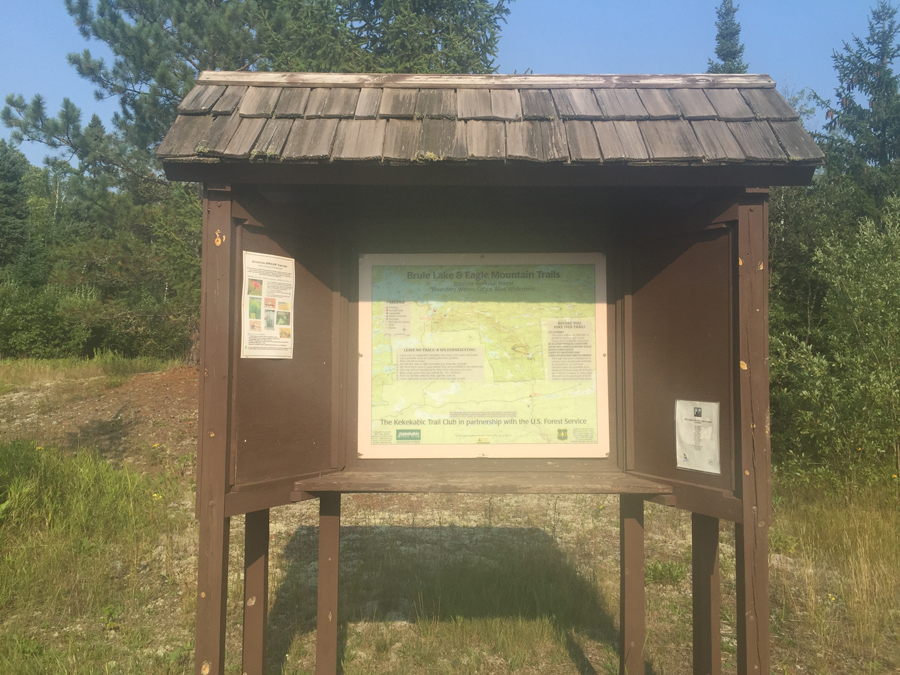 The usual bulletin board. Brule Lake Trail has its own bulletin board; different from the Brule Lake entry bulletin board.

Some reading material.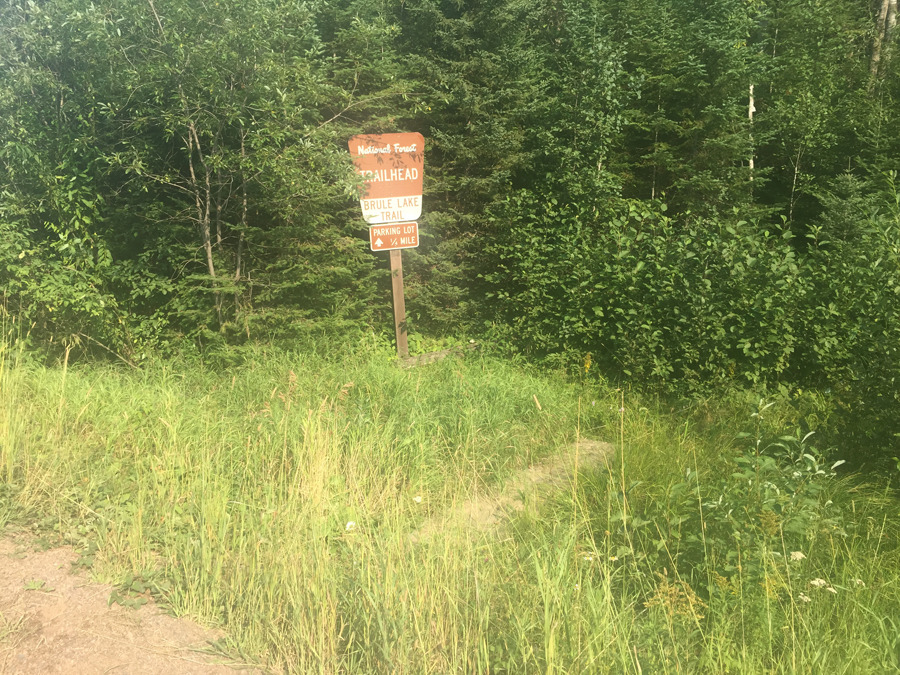 The sign marking the trailhead for the Brule Lake Trail. This is about 80 rods from the parking lot.

The permit box and mileage sign. The trail leads off into the woods.
Return to List of BWCA Entry Points (sorted by Entry Point Name or by Entry Point #)