Keneu Lake
LaCroix Ranger District
This lake used to be called Rice Lake. The lake is on a dead end route. There is a single campsite on this lake. If you want solitude in this part of the BWCA, this lake offers it. The portage into Keneu Lake is somewhat overgrown, probably owing to its lack of use. Many paddlers don't visit lakes off the main route.
Keneu Lake drains out to Hook Lake through a small creek visible along the Keneu Lake to Hook Lake portage. This creek probably forms a pretty little rapids where it flows into Hook Lake in the spring. In the middle of summer though it may hardly any flow at at all. The lake receives runoff from the nearby landscape. There are no visible creeks flowing into Keneu Lake so the lake is perhaps spring fed. Muskeg/marshy area along the south end of the lake.
Exploring Keneu Lake
Paddling from Hook Lake Portage to South End of Keneu Lake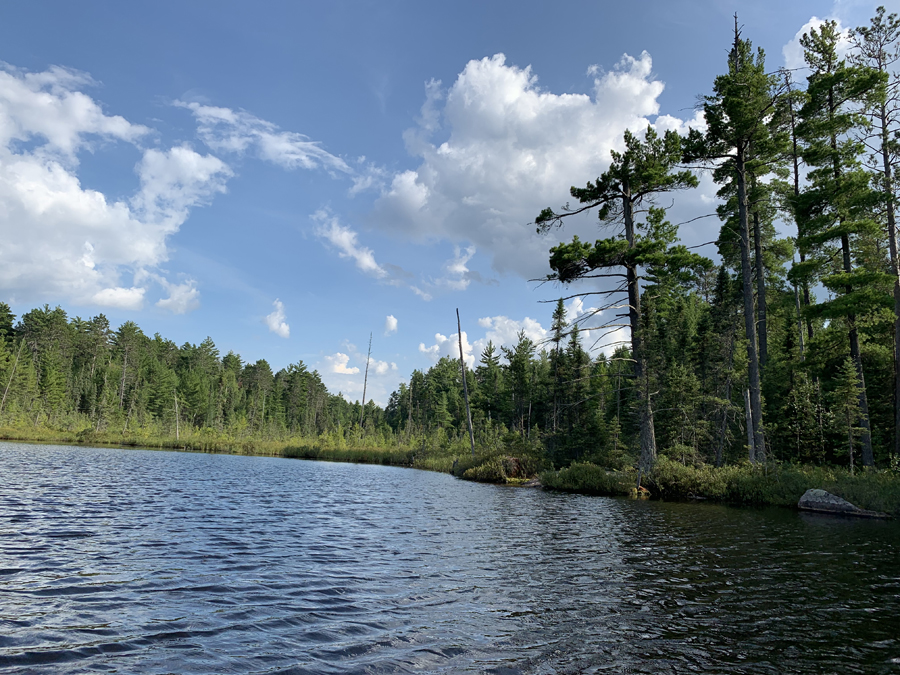 A grove of fairly large pines graces the southwest corner of Keneu Lake.

After leaving the Hook Lake portage, paddle southward generally staying along the western side of the lake. The south end of Keneu Lake is speckled with several large boulders sticking out of the water and a muskeg/marsh shoreline. You pass by the lakes only campsite from a distance at it is already occupied.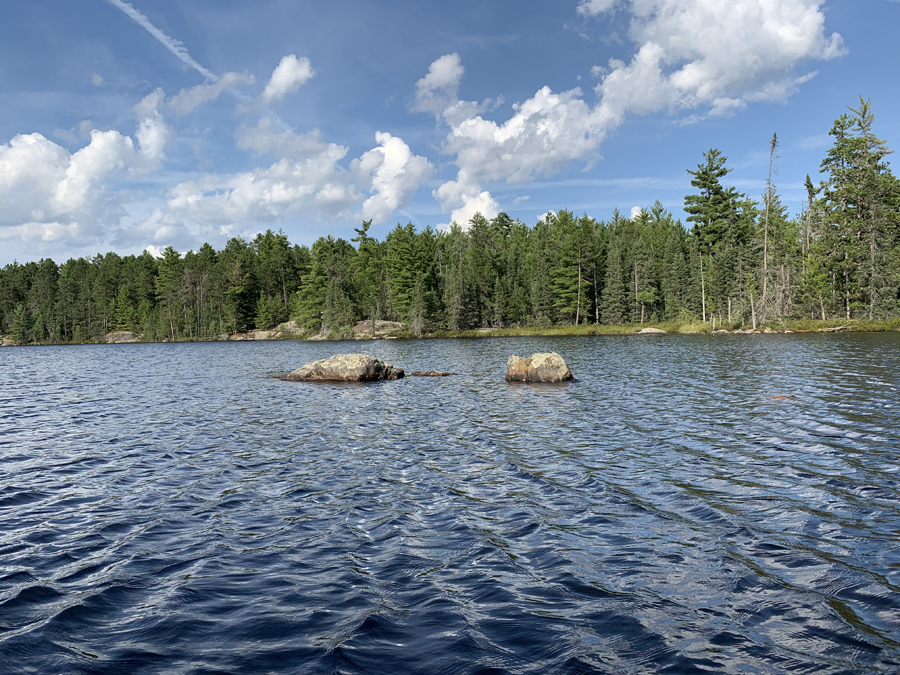 A couple boulders protruding from the south end of Keneu Lake. Looking northeast from near the south end of the lake.
Paddling from South End of Keneu Lake to Hook Lake Portage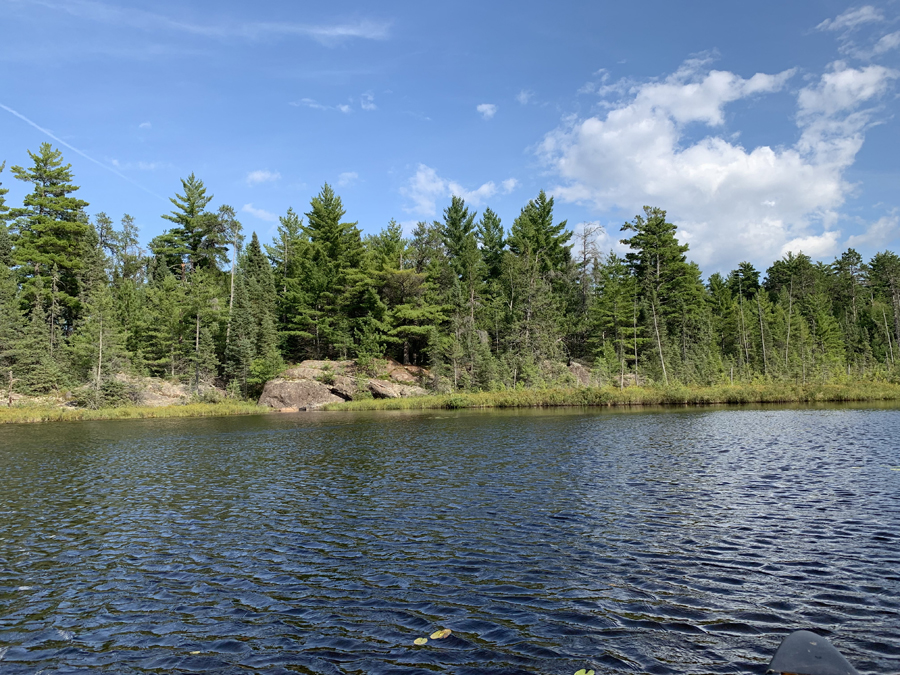 This rock formation is in the southeast corner of the lake. To the right of the view is some of the marshy area found bordering the south end of the lake.

A relatively short paddle across this small lake staying somewhat close to the eastern shoreline. You are paddling north and finish up when you reach the portage leading to Hook Lake. The north end of the lake has a prominent rocky point jutting out into the lake.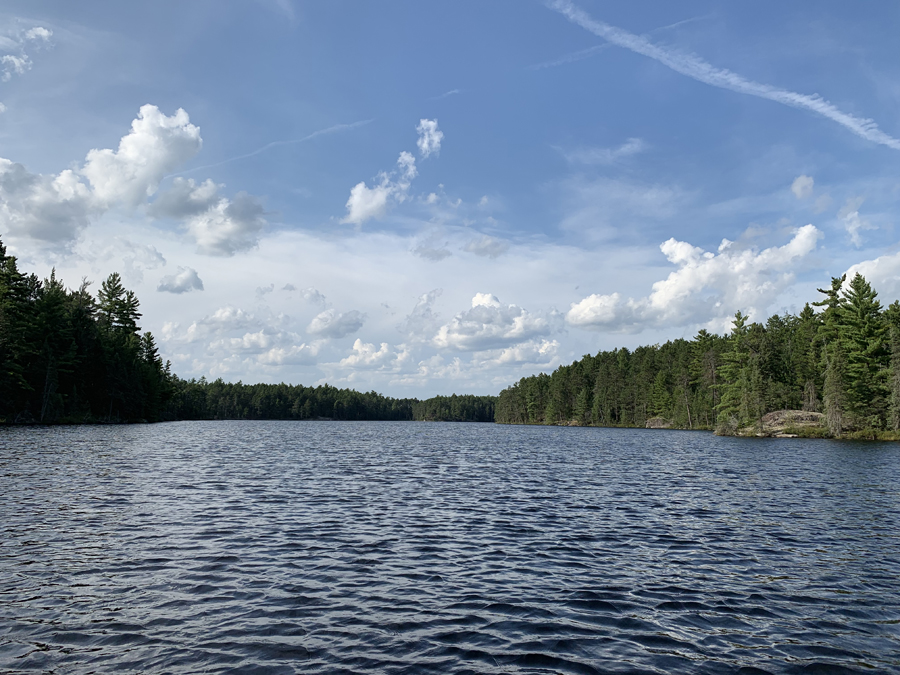 A view toward the distant north end of Keneu Lake. Your location is just off the south shore of the lake.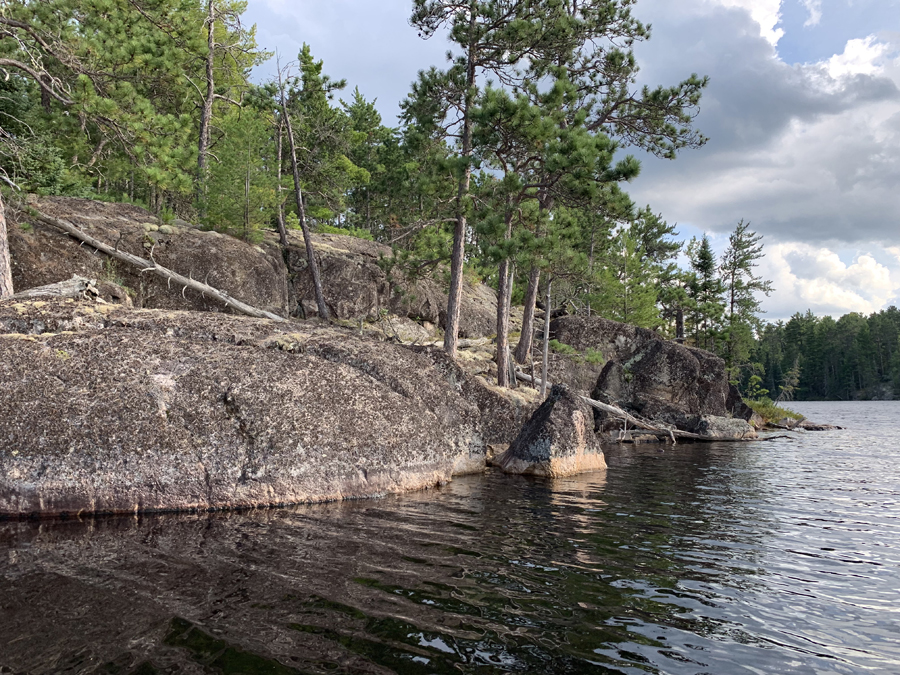 The largest rock outcrop on the lake. These rocks form the point that juts down from the north end of the lake. .
Route Connections for Keneu Lake
From Keneu Lake you can portage to Hook Lake.