BWCA Entry Point 33 - Little Gabbro Lake
Kawishiwi Ranger District
From Ely, follow Minnesota Highway 1 east for about 10 miles. Just after crossing a bridge over the Kawishiwi River for the second time, take a left onto Spruce Road (Road 230). Follow this road, past the Outward Bound School. In 4 miles you will pass the parking area for BWCA Entry Point 32 - South Kawishiwi River on the left side of the road. A sign here indicates that Little Gabbro Lake is another 2 miles. Drive the last 2 miles to the end of the road where the Little Gabbro Lake parking area is located.
You can drive right up to the start of the portage and unload your gear. The parking area is a couple hundred feet back down the road.
Using this entry point gives access to Little Gabbro Lake, Gabbro Lake, Bald Eagle Lake, Clearwater Lake and a few others. The only other routes out of this area are two separate portages into the South Kawishiwi River. One of these portages is 281 rods long and is just north of the entry point up the west shore of Little Gabbro Lake. This long portage leads to Bruin Lake, a small lake to the west. From Bruin Lake it is a short 15 rod portage into the South Kawishiwi River. The other route into the South Kawishiwi River is over a much more modest 122 rod portage. This portage provides views of the ruins of an old dam that used to raise the waters of Little Gabbro Lake more substantially.
The portage down to Little Gabbro Lake is long, but smooth. This portage feels a bit shorter than the 290 rods shown on the map.
Exploring the Entry Point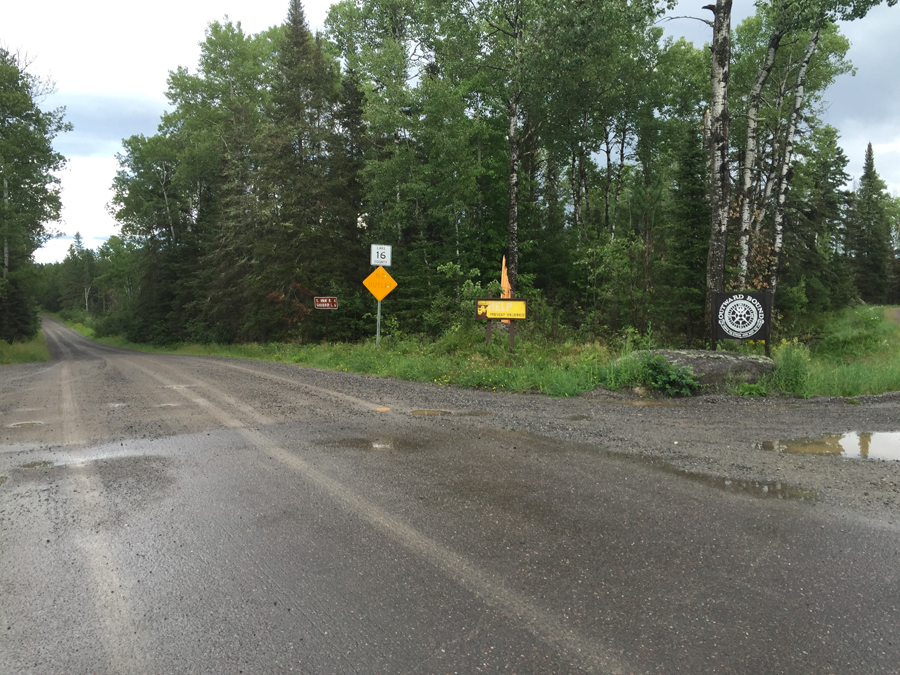 The turnoff on Minnesota Highway 1. From here it's six miles to the Little Gabbro Lake entry point. The entry point is at the end of the road.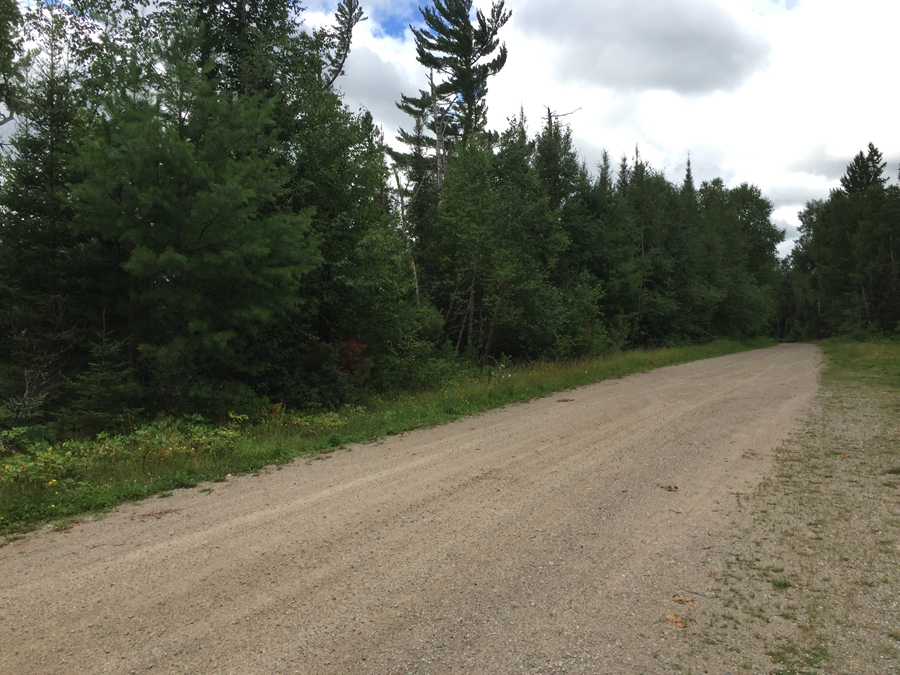 Looking back down the road from the entry point parking lot. The car parking area is just visible to the right along the road. The unloading area is behind you from this vantage point.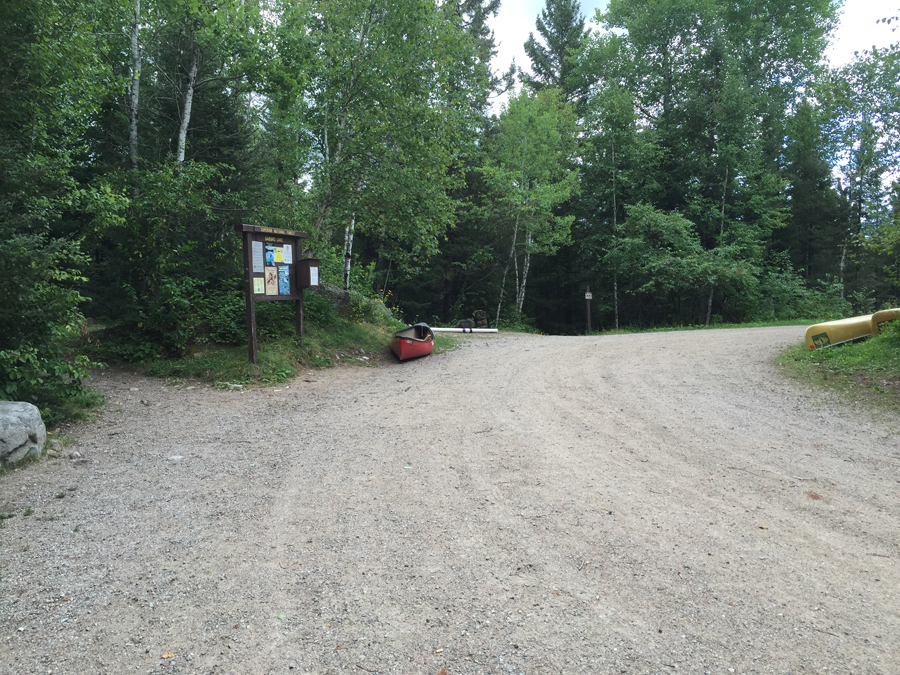 Unloading area. In the distance, just right of center is the sign marking the trail to the biffy. The start of the 290 rod portage is just to the left of the bulletin board on the far left of your view.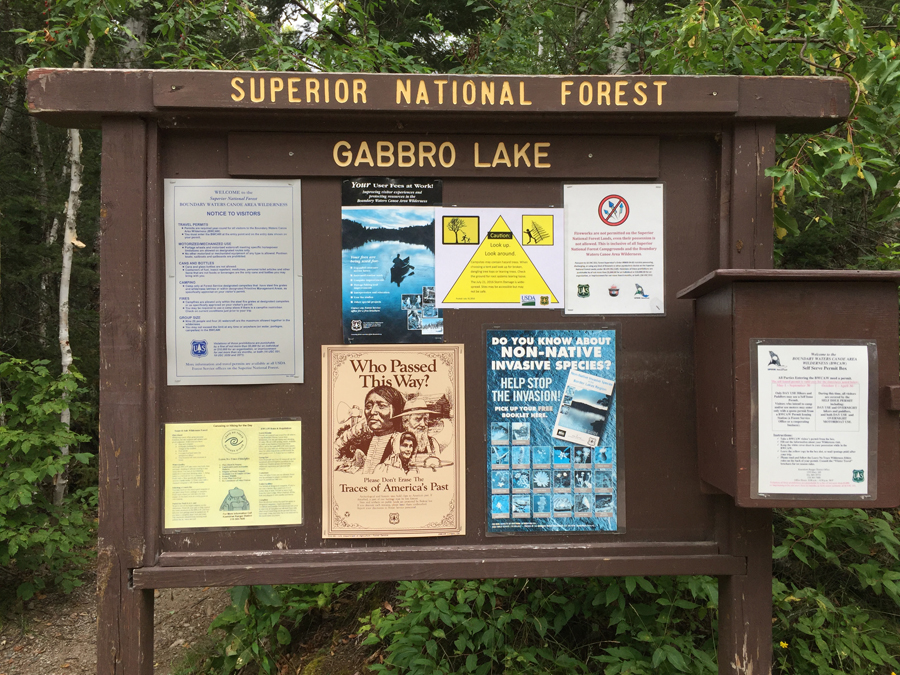 A particularly nice and tidy bulletin board graces the Little Gabbro Lake entry point area.

A walk around the entry point area from the parking lot over to the start of the portage next to the bulletin board.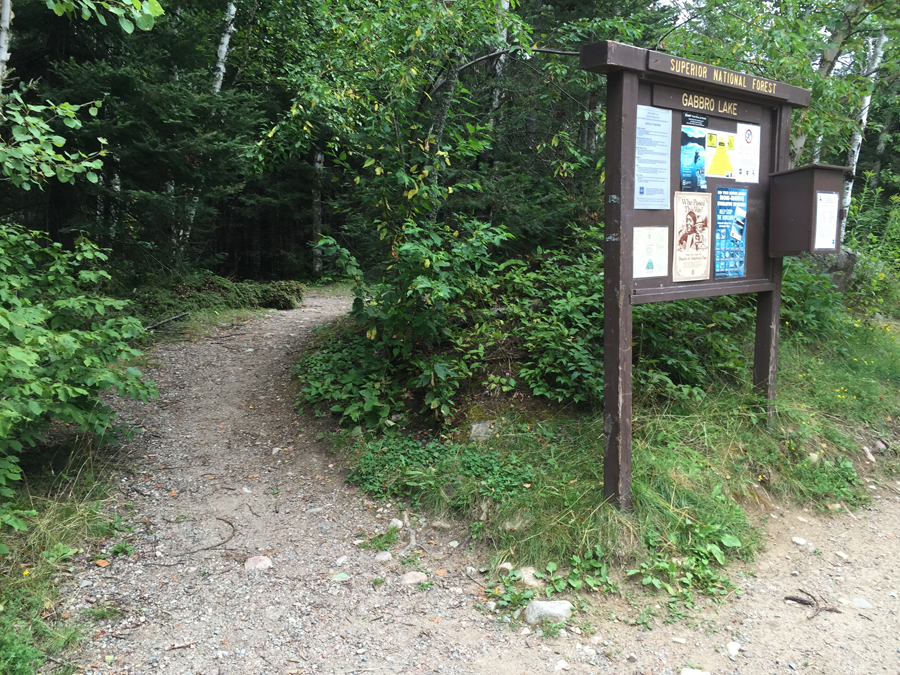 The start of a long but easy portage leading to the shore of Little Gabbro Lake. If you find yourself carrying a load over this portage three times, you got too much stuff.

And here is the portage!
Return to List of BWCA Entry Points (sorted by Entry Point Name or by Entry Point #)