Carefree Lake
I was here during the big Pagami Creek Fire of 2011. The fire started only about one mile from Carefree Lake, yet it wasn't even visible when I was here. I did encounter a lot of U.S. Forest Service personnel paddling out for the day while crossing back to the entry point on Lake One. At the time, the fire was small and nobody knew what was coming. A plane (probably associated with the fire crews) circled over me a few times while I was paddling around on Carefree Lake; probably surprised to see somebody on this lake.
On Lake One, when you get near the portage, you will see some rock formations along the shore in the back of the bay. Climb up on these rocks. If you go back a short distance into the forest, you should be able to find a faint portage trail. This trail represents a mild bushwhack; sort of a portage/bushwhack hybrid if you will. The trail is sometimes hard to follow, but it will take you to a narrow valley in the forest that opens up to the sky. Through this little valley flows a small creek that is perhaps one foot wide through marshy ground with high grass. It is fairly tiring to pull gear and a canoe through. Follow the creek to a pond (visible on satellite images). This pond is deep; could not touch the bottom with my paddle and arm fully extended under the water right from shore. It is fully covered by lily pads, so probably is less than 10 feet but is drops right from the edge. Past the deep pond, you enter a large clearing. It is a peat bog and the little creek meanders through it, though it is hard to follow. I found the easiest walking is staying along the forest edge on the southern most edge of this clearing. Follow this tree line the rest of the way to Carefree Lake. Entering Carefree Lake will take you between some rock walls in a channel choked with lily pads (late summer). Carefree Lake has a possible campsite along it's south shore (see map). There is a portage to Plukesley Lake (not a pure bushwhack) that is useful if you can find it. Look in a small bay where the distance between Carefree Lake and Plukesley Lake is the shortest and assuming it hasn't fallen, there is a dead tree trunk sticking out of the water (maybe 6 feet high). The portage begins under some pine boughs right behind it. You cannot see the portage from the water even if you are right next to shore.
The island in Carefree Lake is notable because it has an interesting half-moon shape and some pretty rock formations.
At time of last visit, did not know about the two old trails that used to come in to Carefree Lake from the Kawishiwi River and Pagami Creek. So I don't know if they still exist. Both of these trails show up on a 1952 Fisher map. They probably were established trails, not necessarily portages. Could have even been old logging roads.
In 1894 a fire affected this area. This fire started somewhere near Gabbro Lake and burned from Gabbro Lake up to Lake One, Lake Two and Lake Three.
Approach to Carefree Lake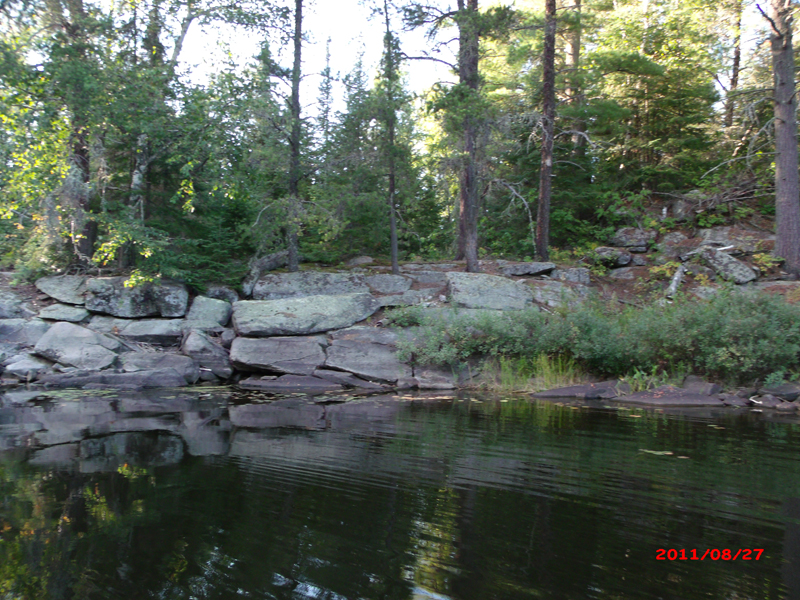 Here you are on the west end of Lake One. At the top of the rocks you see before you, is where you begin a short walk back into the woods. You soon happen upon a faint trail.
Bushwhack to Carefree Lake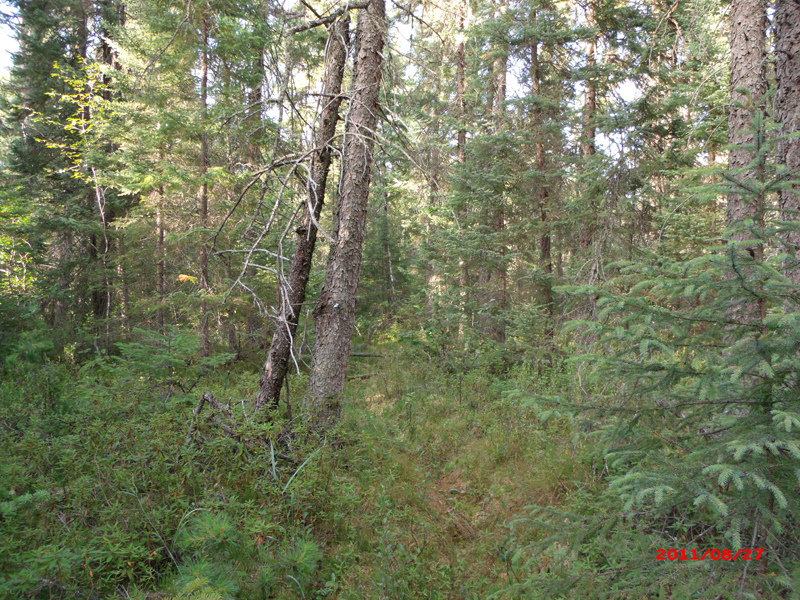 Looking carefully, you can see the faint portage trail through the forest between Lake One and Carefree Lake. See it just to the right of the large pine in nearly the middle of your sightline.

You stop for a breather and take in a 360 degree view of the peat bog you must cross. It looks like you are about midway through the bushwhack to Carefree Lake.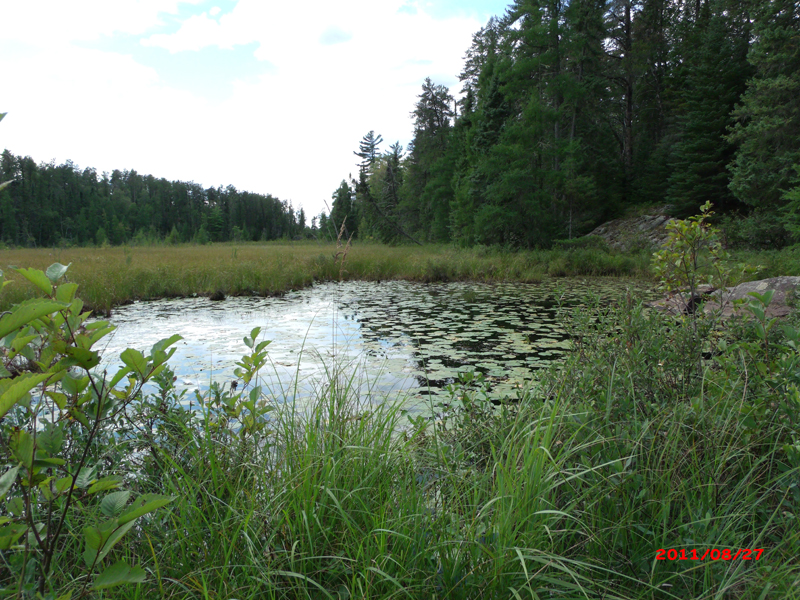 A small pond dots the peat bog between Lake One and Carefree Lake. You see it as you exit the forest. From here you look around. It appears that the easiest route would be if you stay left of this pond and follow the treeline, some of which is visible to the left in the distance. Carefree Lake would be in that notch, straight across this small pond, from where you are standing.
Exploring Carefree Lake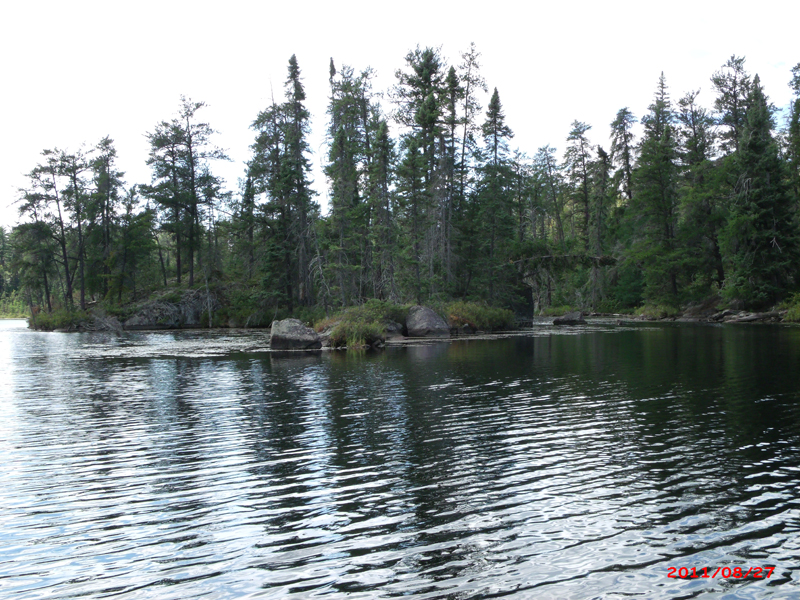 The horseshoe-shaped island on Carefree Lake that you paddle your canoe near. This is a very scenic island.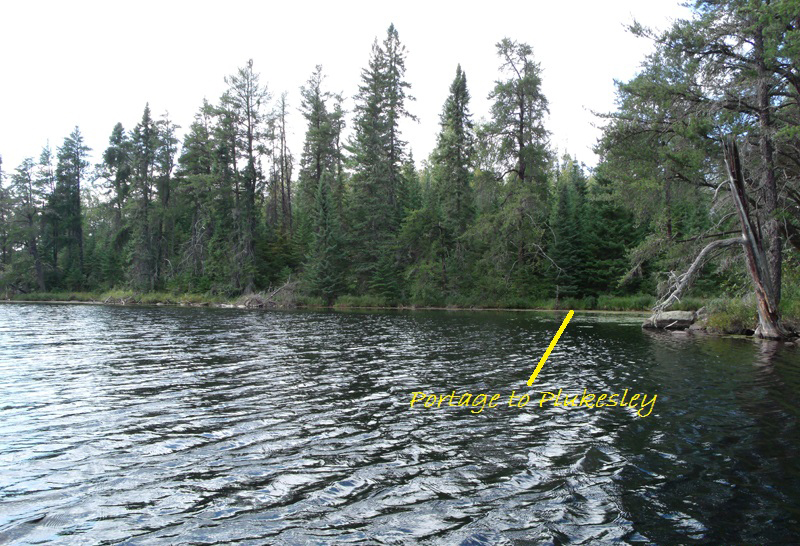 Little bay where portage to Plukesley Lake can be found. You need to get out of your canoe to see this portage; it is rather difficult to locate. The dead tree trunk is just to left of yellow line. The portage starts under those pines behind the trunk. Portage is easily visible (once you are standing on it) and no more than 10 rods to Plukesley Lake.