Mudro Lake
Kawishiwi Ranger District
A deep lake with a single campsite. The lake does not contain lake trout. Mudro Lake's waters flow north into Fourtown Lake.
The three portages along the creek in the gorge between Mudro Lake and Fourtown Lake are very rocky. Sections of these portages, particularly the first and last 30 rod portage could be underwater during high water levels. There were many bald eagles here in springtime. There are some lovely views to be had along these portages.
The portage from Entry Point #23 is 30 rods long and nice and easy. It follows a small creek. The creek flows out of Pickett Lake into the west end of Mudro Lake. This creek is navigable during good water levels in a lightly loaded canoe; expect it to be harder to travel the creek than the portage though.
Exploring Mudro Lake


Looking toward the south, you take in most of the southern shoreline of Mudro Lake.

Beginning at the portage that heads back up along the creek in the direction of Fourtown Lake, you begin paddling generally west across Mudro Lake.

From the middle of Mudro Lake, you continue paddling to the west up into the creek between Picket Lake and Mudro Lake.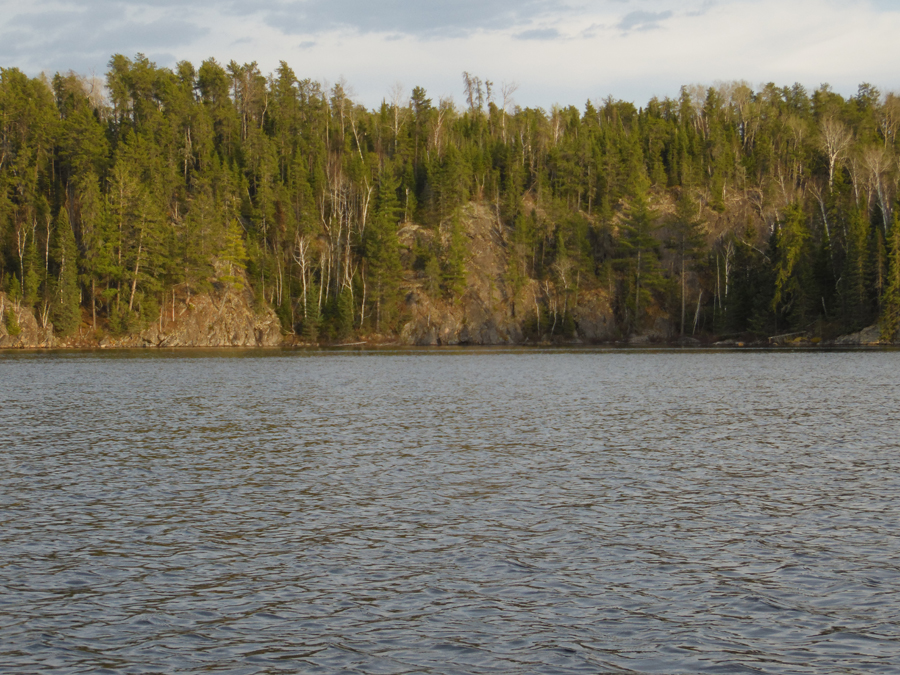 Cliffs rising up along the notch in the middle of the south shore of Mudro Lake.

Paddling up the creek between Mudro Lake and Picket Lake toward the west heading in direction of Entry Point 22 and Entry Point 23. You encounter a wide beaver dam that requires a liftover to the right.

Continuing past the beaver dam, you finally arrive at the combined Entry Point 22 and Entry Point 23 for Mudro Lake.
Route Connections for Mudro Lake
From Mudro Lake, you can portage to Fourtown Lake or Sandpit Lake. Mudro Lake also provides access to the BWCA for Entry Point 22 - Mudro Lake (RESTRICTED) and Entry Point 23 - Mudro Lake.