Moose Lake
Kawishiwi Ranger District
Moose Lake is the southern most of a string of three large lakes that extend up to Prairie Portage on the Canadian Border. Moose Lake itself is almost five miles long. Moose Lake is the location of BWCA Entry Point 25 which is the busiest entry point in the BWCA. Roughly the north half of Moose Lake is in the BWCA. The boundary line is just north of the entry point. A couple outfitters can be found along the road leading to the entry point. The outfitters supply gear and a motorboat shuttle service up to Prairie Portage. Moose Lake is usually a pass through lake for canoeists with most paddlers heading to either Prairie Portage and the Quetico or to points east and northeast like Ensign Lake and Vera Lake.
Moose Lake has a good supply of northern pike and modest walleye fishing.
Moose Lake is fed by Jasper Creek which flows into the south end of the lake. Another small tributary on the south end of the lake is Uncle Judd's Creek. Water from Moose Lake flows north toward Basswood Lake.
It is possible to portage directly to Snowbank Lake from Moose Lake although this portage route is outside of the BWCA. The portage is near the entry point and is 250 rods to Flash Lake and another 140 rods to Snowbank Lake. Another long portage from Moose Lake is a 175 rod walk to Wind Lake. If you are planning to paddle to Prairie Portage, the trip is nearly six miles.
Exploring Moose Lake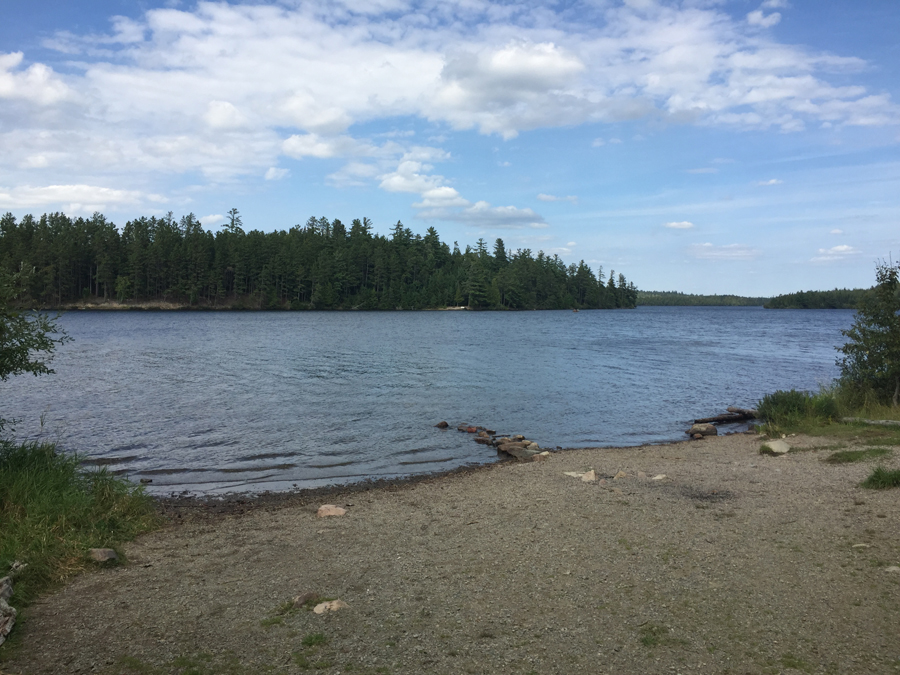 Looking generally north from BWCA Entry Point 25. An easy portage of 10 rods is behind you that leads up to the car unloading area.. The boundary of the BWCA starts right in the middle of your view at that "speck" on the island in front of you.

Moose Lake on a clear day with light wind. That is an island out in front of you. You generally paddle to the right from here. The portage path of 10 rods length is directly behind you and leads up to the parking lot for BWCA Entry Point 25.
Route Connections for Moose Lake
From Moose Lake, you can portage to Flash Lake (which is outside of the BWCA) or Wind Lake. You can also paddle into Newfound Lake. You can also choose to exit the BWCA at Entry Point 25.