Long Island River
Gunflint Ranger District
This is a short scenic paddle along a pretty river. The Long Island River flows north from Gordon Lake into Long Island Lake. There are two portages along the river, both easy. One is 25 rods from Gordon Lake into the river. The second is a very short 4 rod portage along the river. There are no campsites.
Have recorded the Long Island River in the south direction (upstream) from Long Island Lake to Gordon Lake) as depicted below.
Long Island Lake and Cherokee Lake are two very busy lakes in the area where paddlers seem to congregate in the summer. However, the stretch between them along the Long Island River and through Gordon Lake is often much quieter. Seems that paddlers entering through Ham Lake tend to go no further south than Long Island Lake and paddlers entering at Sawbill Lake don't go farther north than Cherokee Lake.
Paddling the Long Island River (Upstream from Long Island Lake to Gordon Lake)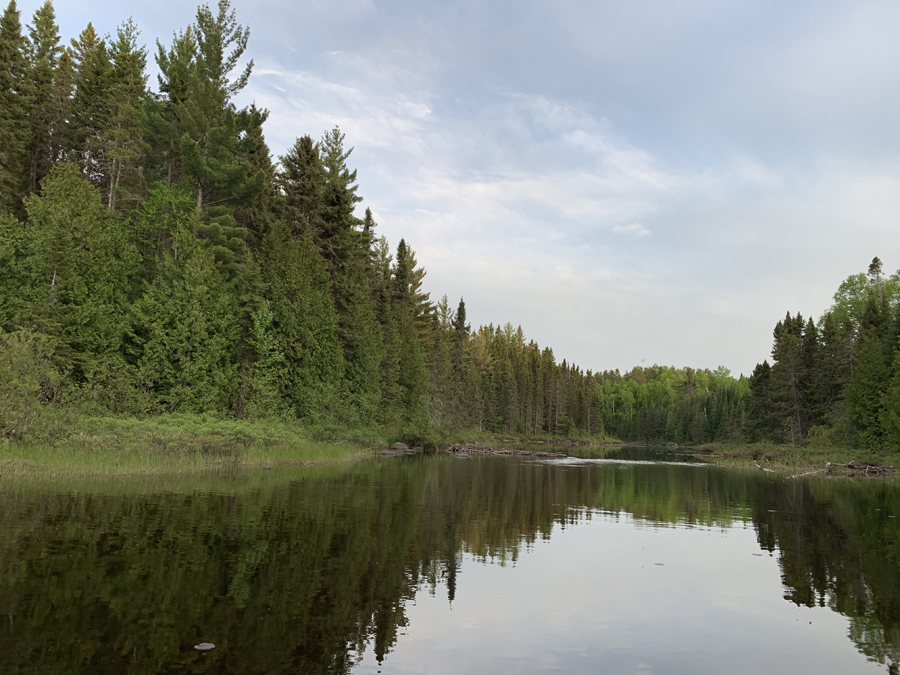 View upstream from the mouth of the river at Long Island Lake. That is a small beaver dam where you see that moving water just right of center. You can usually paddle through it (no liftover required).

Paddling from the mouth at Long Island Lake upstream (to the south) to the 4 rod portage.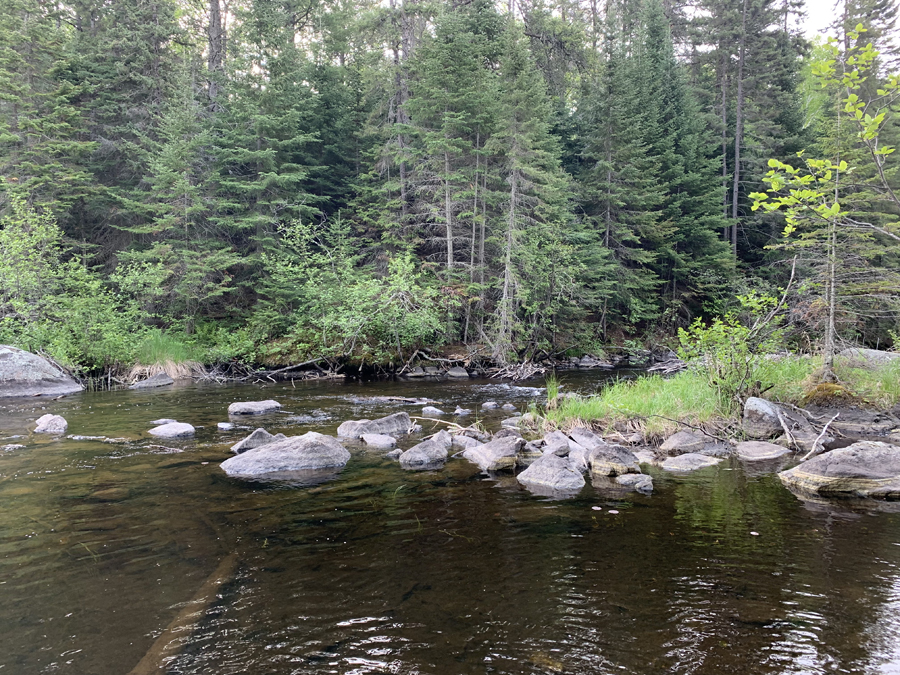 This is the small rapids that requires the 4 rod portage. The portage starts just to the right of this view.

The landing for the 4 rod portage if you are headed upstream.

Portage 4 rods upstream along Long Island River. You are heading south (which is upstream). Can be confusing. It is like this because you are just north of the Laurentian Divide.

View from the upstream landing along the 4 rod portage. You paddle to the right after leaving this spot.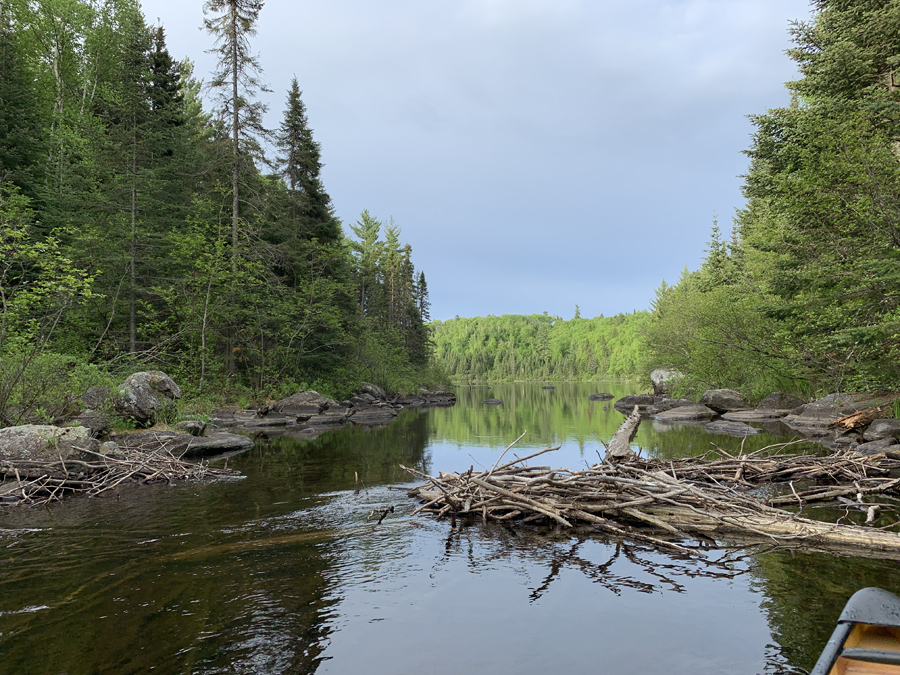 As you continue south along the river, it starts to open up. This is another beaver dam. Typically these dams don't entirely block the river, so you can just paddle through.

Paddling upstream to the south from the 4 rod portage to the 25 rod portage into Gordon Lake. This part of the paddle traverses the wider section of the river.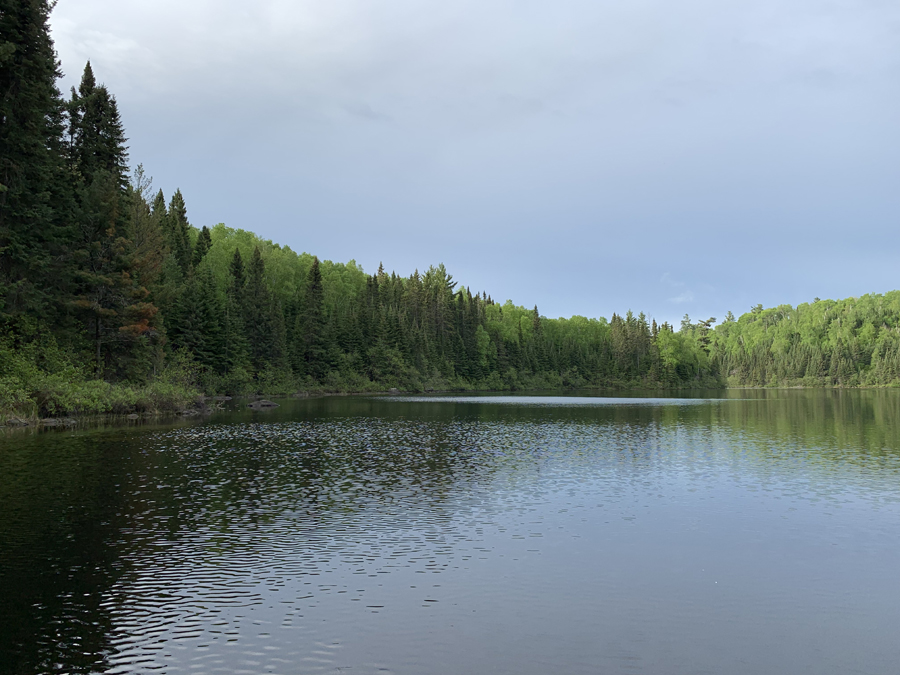 The wider section of the Long Island River between the 4 rod portage (to the north) and the 25 rod portage leading into Gordon Lake.

Another view along the river. There are still a few stray pines of large size in the area.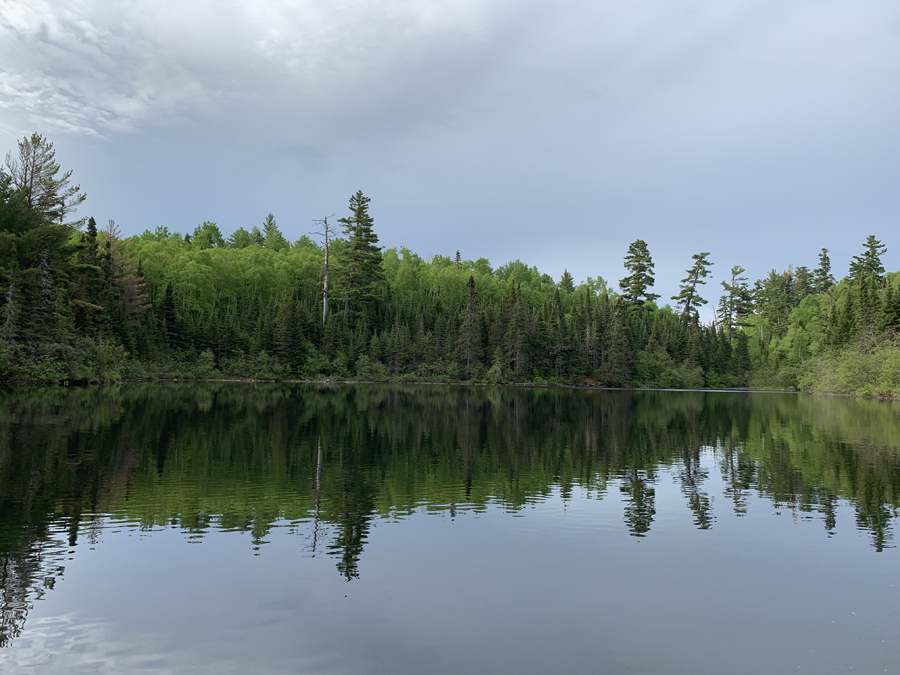 You aren't far from the 25 rod portage now. It is in the distance to the right side of your view. Marked by the tall, slightly leaning pine tree.

The rapids that necessitate the 25 rod portage into Gordon Lake. (Click this link to see portage from the Long Island River to Gordon Lake.)
Route Connections for Long Island River
From the Long Island River, you can paddle into Long Island Lake or portage into Gordon Lake.